Dress up as the eccentric Rick and his grandson, Morty and enjoy some sci-fi misadventures! Anything inspired by Back to the Future gets my vote!
Extra prop ideas:
- a flask or bottle of wine
- a space gunmousta
Dress up as Rick
Rick is the eccentric mad scientist with a drinking problem. He reminds me of a (more) unhinged Doc Brown. Luckily, the outfit is pretty simple to pull off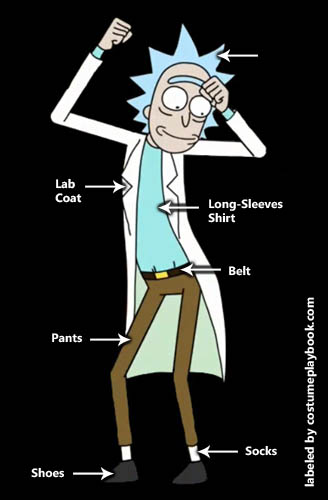 Spiky Light Blue Wig

I absolutely love his spiky light blue hair and this anime-inspired wig fits the bill!

White Lab Gown

A white lab coat is all you need to drive home the scientist look. Make sure the sleeves of your light blue are showing a bit (fold the lab coat's sleeves a bit, if need be)

Light Blue Long-Sleeved Top

Underneath the gown, wear a long-sleeved top with a crewneck in a shade of light blue to match the wig. For the bottom, brown pants or khakis, a belt with a gold buckle, and any basic pair of black shoes will do.

Light Blue Moustache

For an extra fun detail, use the curved mustache on this pack, trim it up a bit and stick on your forehead to mimic Rick's light blue unibrow. Budget tip: you can just buy light blue construction / board paper and cut a line as a cheap eyebrow

Black Military Belt with Gold Buckle

This is a basic belt with a gold buckle that is pretty affordable

Flask

Optional fun prop: A regular flask! Note: feigned drunk behavior is also optional during your cosplay
Dress up as Morty
I think Morty's name is based off of Marty McFly, doncha think? The 14-year-old grandson is the poor guy who always gets dragged into Rick's crazy endeavors. His outfit is extremely easy to follow, and you probably will really need to bring along a Rick to your cosplay event if you want people to recognize who you are.
For the hair, just keep your hair short and flat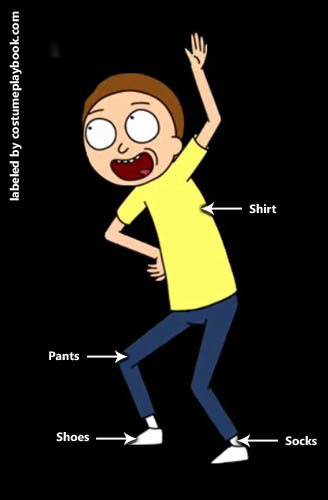 Yellow Shirt

Wear a light lemon yellow shirt.

Dark Blue Stretchy Pants

Now, wear a pair of dark blue pants with a slim fit. Seriously, how easy can this costume get?

Space Toy Gun

To make your costume a bit more fun and cool, bring along a space-age toy gun. So stoked they made a Rick and Morty laser gun prop!