Table of Contents: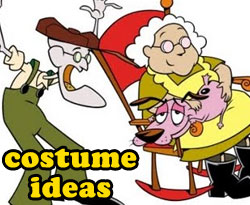 Here's a couple costume idea with a horror flair! Dress up as Muriel and Eustace, a couple who lives in a farm in the middle of nowhere. Everything looks peaceful until some thing or creature shakes things up. Lucky for them they have an ever loyal dog who soldiers on despite his cowardice!
Dress up as Muriel Bagge
Muriel is a sweet old Scottish lady with a bit of bad luck when it comes to running into dark and paranormal situations. She is almost always the victim of the ordeal, oh my! Thankfully, Courage always comes to her aid – her canine knight in shining armor. As an additional prop, you can bring a rolling pin, which she sometimes uses to hit her husband when he is treating Courage badly.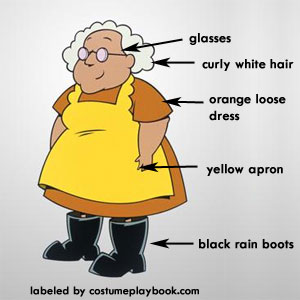 Curly Old Lady Wig

Muriel has curly hair, which adds even more of that friendly grandma aura to her.

Eyeglasses with Round Frames

She sports a pair of round-framed glasses




T-Shirt Dress

The first option is to wear a T-shirt dress. Its loose sleeves mimic Muriel's getup in the cartoon. In the cartoon, her dress is often regarded as mustard, though in some images, it is orange. I think the orange dress + yellow apron is a nice combination

Yellow Apron

Muriel wears a yellow apron over her dress to help her whip up all her delicious dishes. This basic apron should do the trick. In the cartoon, it is said that she won many cooking awards, including best dog food (definitely Courage's favorite award!)

Courage the Cowardly Dog Plush

Be sure to bring along her most loyal companion, Courage! This cute plush will definitely be the envy of many

Black Rain / Garden Boots

Rain / garden boots are a practical choice for someone who lives in a farm and makes Muriel's whole outfit that more memorable.
Dress up as Eustace Bagge
Eustace is the exact opposite of his wife. He's grumpy, self-centered, and hates Courage, who he calls a "Stupid Dog!" He even has a spooky mask to scare the canine off! OOGA BOOGA BOOGA! Honestly, whenever he gets into trouble, I sometimes hope Courage doesn't help him out, though Muriel would be greatly upset when that happens as she loves Eustace very much.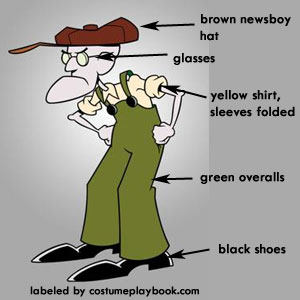 Brown Newsboy Hat

Eustace appears to be sporting a newsboy hat, and this one is a very nice piece and made of leather too! It also has those sections on the hat in the same way Eustace's does in the cartoon

Eyeglasses with Round Frame

Like Muriel, he wears a pair of round-framed glasses

Light Yellow Tee

This grumpy old man wears a plain yellow tee, with the sleeves folded




Dark Green Overalls

Over the tee, he wears dark green overalls