Captain Planet – 90s Cartoon
Dress up as Captain Planet
Dress up as the main man himself, with green hair and all! Abs optional.
Don't forget to say, "By your powers combined, I am Captain Planet!"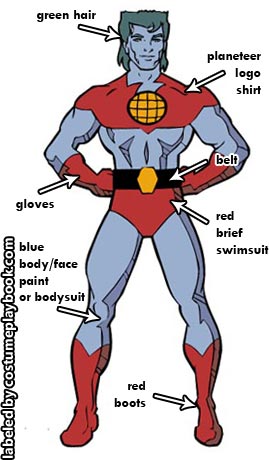 Green Wig

Captain Planet sports a green wig – an appropriate color for the eco-champion, right? In the cartoon, his hair has some serious sideburns going on, but this wig bears a close enough resemblance.

Costume Set for Kids

For the kids, you can check out this costume set, which comes almost complete – all you need are a pair of red gloves and a wig. I cannot attest to the quality of this set. In many cases, sets can be a little lower quality but if you'd like a rush costume for your kid, then it's something to consider

Red Planeteer Shirt

Captain Planet wears a red shirt with the planeteer symbol, except that it has been cut on the midriff area. Go ahead and cut it yourself using a pair of fabric scissors. If you're a little uncomfortable with showing off bare skin, feel free to keep the shirt intact

Red Gloves

He wipes the planet clean of bad guys with super squeaky clean red gloves!

Red Boots

The dude loves red. His boots are also in the same bright shade. Did he get a few fashion tips from Superman? I like that this pair has that stylish cut on the top – if you look at the photo of Captain Planet, his boots have a subtle detail like that as well

Red Swimsuit Briefs

Speaking of Superman… he even sports the "underwear over the clothes" look, just like the Man of Steel! If you plan on wearing the unitard below, consider buying a pair of briefs a size bigger than usual as you will be wearing it over the unitard.

Unitard

There are two ways to achieve a bluish body. First option is to wear this unitard, then just wear the briefs, gloves, boots, and shirt over it. The hue of Captain Planet is a mix between blue, gray, and purple, and this seems to be a close resemblance

Blue Face Paint

Option 2, is to apply blue paint all over your body. You will also use this to paint your face. If you have 6-pack abs and want an excuse to flaunt it then you'd want this option with the midriff Planeteer shirt

Belt with Gold Buckle

Captain Planet also wears a belt over his briefs. Why he does is actually a mystery since he doesn't have any pants on. It's not a utility belt like Batman's either. So I guess it's just a fashion accessory!
Table of Contents: