Scooby Doo Costumes
Dress up as Fred Herman Jones
Fred Jones is the self-professed leader of the gang who I will always remember as the dude with a neckerchief. His outfit is pretty easy. Just a few layers for the top then finish off with a pair of blue jeans.
Couples: dress up as Daphne and Fred – the perfect couple!
Blonde Wig

Fred has blonde hair. If you don't have blonde hair, then you can wear a wig.

Blue Collared Shirt

He wears 2 layers. First: a blue collared shirt

White V-Neck sweater

Second layer: A white long-sleeved pullover for a preppy finish. I'd go for a V-neck cut, so that the collar of the 1st layer is visible.

Red Men's Neckerchief

This version I believe is usually worn by chefs. This seems to be a thicker material and less flexible, but based on the photo, it seems to be a great fit and would look good on men and women alike

Brown Casual Loafers

For the footwear, I'd go for plain, casual brown loafers
The other Members of Mystery, Inc.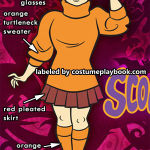 Velma Dinkley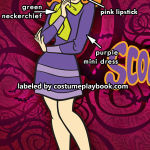 Daphne Blake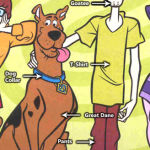 Shaggy & Scooby