Scooby Doo Costumes
Dress up as Daphne Blake
Daphne is the pretty, fashionable member of Mystery Inc, who happens to be very prone to danger. No matter, Fred is there to save the day!
Couples: Dress up as Fred and Daphne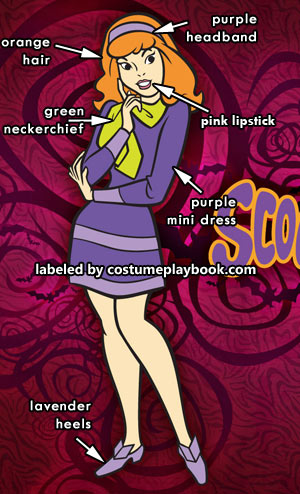 Red / Orange Wig

She sports shoulder-length bright reddish orange mane. You might need to trim this up a bit

Lavender Headband

Get a lavender headband – the shade on the photo looks perfect!

Light Green Neckerchief

Get yourself a plain light green neckerchief and tie around your neck. I wonder if Fred and Daphne had neckerchiefs as a matchy, couple fashion gimmick?

Purple Long-Sleeved Dress

Get yourself a purple mini dress with long sleeves. Preferably something with a looser skirt (not the bodycon type). This piece seems to be a good fit.

Purple Long-Sleeved Bodycon Dress

If you want something a little more "Va Va Voom", then go for a bodycon mini dress like this one

Purple Boots

The photo shows she wears a pair of closed heels in a purple shade. In the movie version however, Sarah Michelle Gellar wore a pair of purple boots. I personally think the boots are a cuter option.
The other Members of Mystery, Inc.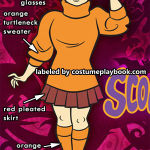 Velma Dinkley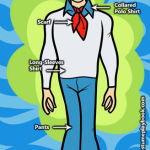 Fred Jones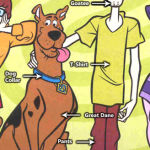 Shaggy & Scooby