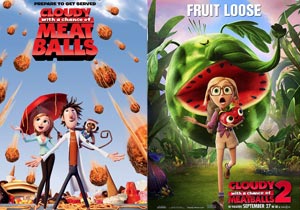 It's raining meatballs. Quick! Dress up as Sam Sparks and Flint Lockwood
Table of Contents:
Dress up as Sam Sparks from the First Movie
Sam Sparks is the fun, friendly, and super smart weather news reporter. In the first movie, her most distinct outfit is a more professional look consisting of pants and a blazer jacket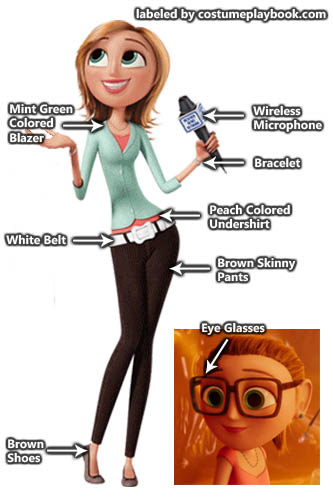 Coral Spaghetti Strap

I love Sam Sparks' color coordination – pastel shades are yummy and remind me of that ice cream scene. The reporter wears a simple coral top underneath a mint green blazer. She tucks in the top

Mint Green Blazer

Here's a beautiful mint green blazer that is pretty affordable. Sam's blazer seems to be made from a tweed texture, but I think this polyester/rayon piece will do just fine. Plus, I'd totally wear it to work!

Wide White Belt

She wears a wide white belt, which is very distinct since she tucks in the coral top.

Dark Brown Skinny Jeans

A basic pair of skinny pants will do just fine – preferably a dark brown shade. If you already have one lying around in your wardrobe, then that would do great. Otherwise, this piece (currently priced under 10 bucks) is a good choice and a good staple for everyday wear.

Wireless Microphone

Every reporter never leaves home without her microphone. Check out the additional fun detail you can add to your microphone on the next item below!

Cube Logo Microphone Flag

To look more like a reporter, slip your microphone inside the white cube (this cube's hole measures 39mm). That's the kind of mic you see reporters holding all the time, and the cube usually shows off the news station the reporter is representing. Sam Sparks works for Weather News Network, so if you'd like to make a small DIY project, check out my free printable Weather News Network logo below, which you can print and stick onto the cube to make it look more like a Cloudy with Chance of Meatballs prop!
Weather News Network Logo
I've recreated the network logo which you can print and stick on the mic cube box: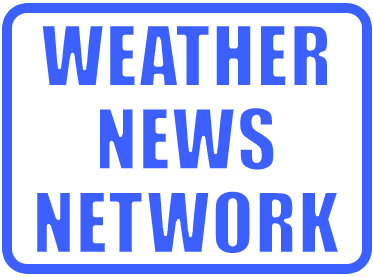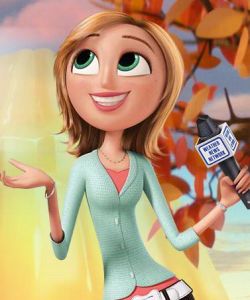 Dress up as Flint Lockwood – First and Second Movie
Flint's look hardly changes in Cloudy with Chance of Meatballs part 2. He's still very much comfortable with his graphic tee – lab coat look.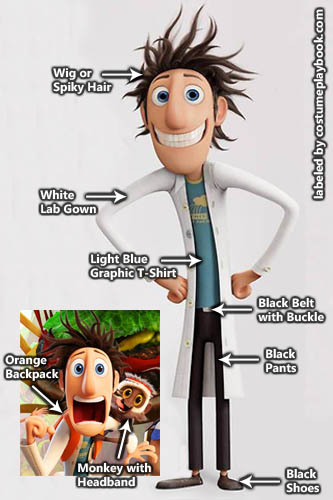 Spiked Wig

He also still has that spiky hair. It's always very hard to find good wigs. Among the lot, this seems to be the best choice, if based on the photo and reviews. You can also opt to grow your hair a bit long prior to the costume event then with some gel, try to recreate Flint's messy spikes yourself

Blue Graphic Tee – Science is Awesome

The original tee Flint wears in the movie says "Science is Awesome" very appropo for his character. It also shows a raining cloud. Spreadshirt offers a more similar replica (though not exactly the same either), but you can also just go for this shirt, which says the same thing and is also in a light blue color

Light Blue Graphic Tee with Cloud

Another option is this graphic tee that features a cloud and a yellow thunderbolt. It's simple and at least has the same blue-yellow color scheme and cloud graphic as Flint's

White Lab Coat

Easy, easy, easy! If you have the one you used to wear during Science class (and it still fits you), feel free to reuse it. Otherwise, this one is priced reasonably and I'm sure you'll find other

lab gown wearing characters to dress up as in the future (like these)

. Trivia: This gown is made by Dickies (didn't know they made lab coats, too!)

Orange Backpack

If you'd like to add details from the second movie, you can wear an orange backpack, which Flint sports during their journey.

Vervet Monkey Plush

Another detail from the second movie: bring along Steve, the monkey! Dress this plush toy up with a red,white, and blue headband

Red, White, Blue Headband

Wear this over your monkey plush toy. Just a note though – the plush toy is very small so this headband will probably be too big for him. You'll need to tape it or something to keep it stuck to little Steve's head.
"Science is Awesome" Shirt
Here's a look at the "Science is Awesome" design: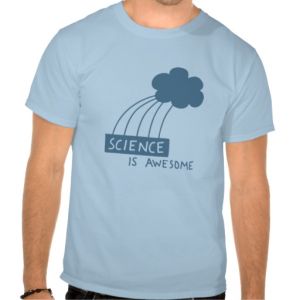 * This is not an exact replica. The colors are not correct (should be blue and yellow) but the gist is there
Dress up as Sam Sparks – Second Movie
Sam Sparks ditches her professional reporter ensemble and goes for a more relaxed, adventurer-type look! Even her hair, which was just kept down with a few waves during the first movie, has gotten a more outdoor look – tie some of your hair into a bun.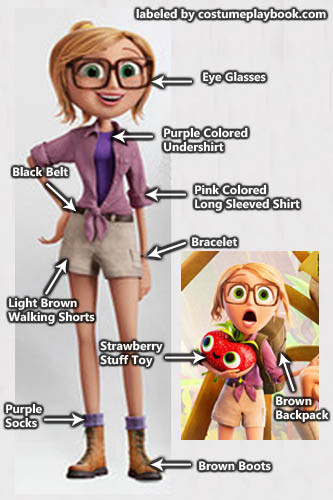 Large Squarish Eyeglasses

She wears a pair of eyeglasses with a large squarish frame. I think she looks really cute with it! It seems like it's a tortoise frame, so choose the tortoise option when you go to this product page

Purple / Violet Spaghetti Strap Camisole

She's still into the whole layering thing – she wears a plain violet camisole underneath

Dark Pink Cotton Button Down Shirt

She has ditched the structured blazer for a more relaxed shirt. I like the casual finish of this shirt, and it even has a pocket detail just like the one Sam has (this has 2, Sam's has 1) Be sure to keep the shirt unbuttoned, fold the sleeves (make the folds thick!), and tie the bottom part the way Sam did it (think 80s, hehe!)

Levi's Corduroy Shirt

Here's another good option, this time from Levi's. This is a few shades lighter than Sam's but it also has a nice casual finish and pocket details.

Skinny Brown Belt

Sam wears a skinny brown belt now, instead of the wide white one she wore on the first movie

Cargo Shorts

No safari explorer look is ever complete without khaki cargo shorts! This pair has a pocket detail on the bottom, just like Sam's shorts

Hiking Backpack

She has a huge bulky hiking backpack

Purple Socks

I just loved this extra detail the animators put in! It ties great with Sam's top.

Brown Lace Boots

Sam is probably wearing a pair of hiking boots, but if you have no intentions of hiking anytime soon, then consider buying a fashionable pair of combat boots instead. This one has gotten mostly great reviews and the color fits Sam's boots too!

Cloudy with a Chance of Meatballs 2 Six Pieces Plush Set

For a cute little bonus: bring Barry the Strawberry and/or all the other Food Animal Plush! So cute!
The Gang meets Barry the Strawberry