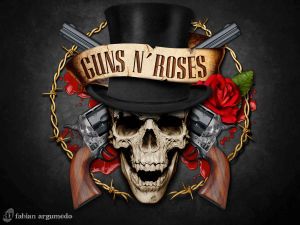 Long live 80s rock! Bang your head as lead singer, Axl Rose, or be the cool guitarist, Slash. Either way, your costume is going to be a blast and a great rockin' trip down memory lane!
Table of Contents:
Dress up as Slash (Guitarist)
Slash is arguably the most famous rock guitarist. Deck yourself in a top hat, and black ensemble. Kick-ass guitar optional.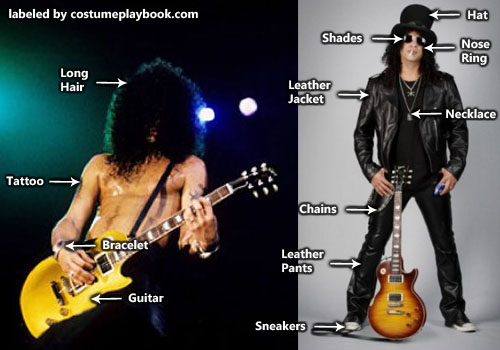 Slash Hat with Wig

The most distinct aspect of a Slash costume is his long curly hair and his top hat. This conveniently gives you 2-in-1! The hat seems to be simpler than the Slash hat and doesn't have the metal details, but majority of the reviews on this one have been positive.

Sorta off topic: I think the 4 Non Blondes singer must have taken her top hat fashion idea from Slash, no?

Aviator Sunglasses

Slash wears a pair of aviator sunglasses. Was there ever a photo of him sans his eyewear? This pair is very affordable and has gotten the most average good reviews to date

Nose Ring Clip

Nothing spells cool rocker more than a nose ring.




Skull / Rose Tattoos

Slash sports the Guns n Roses tattoo on his left bicep. This one looks good based on the photo

Black Tee

An ordinary tight black top is all you need

Skull and Crossbones Necklace

The dude loves his skulls! He sports a skull necklace like this one

Steel Bracelet for Men

Slash wears a couple of bracelets. You can definitely go crazy and choose the ones that suit your style (guys, it's the perfect excuse to accessorize!) but this plain one is a keeper. It looks like the one he wore on his right wrist AND it's simple enough to wear on ordinary days

Low Top Black Converse Chuck Taylor Sneakers

Keeping it casual and comfortable, Slash wears a pair of sneakers in the photo above
Dress up as Axl Rose
Dress up as the 80s lead singer! There are so many ways to go about this, and I feature several different choices below. The important thing is you have his trademark hair and bandana.
Here are 2 other alternative outfit options:
Axl Rose with his mickey mouse shirt (and cross necklace):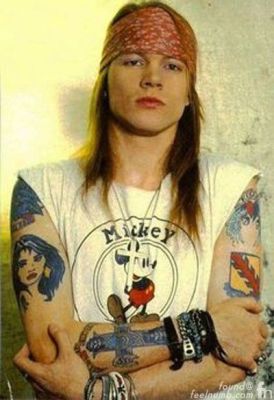 Axl Rose with a plaid shirt wrapped around his waist: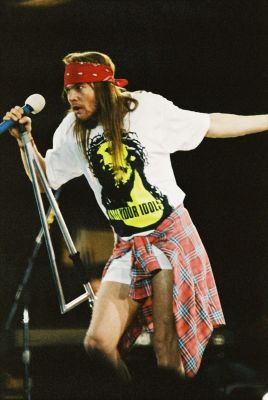 Long Auburn Hair and Red Bandana

Like Slash, Axl's most distinct costume piece is his coif, which usually has a bandana tied around it. The red one is the one that stands out in my memory the most. This set already includes the wig and the bandana and was given good reviews so far

Black Skull Vest

Axl wears a black vest. This piece has a skull on the back – a great detail and nod to the Guns n Roses band logo

Guns n Roses Shirt

The easiest thing to do to make sure everyone knows you're dressed up as the famous singer is to wear a tee of your band! This Guns n Roses shirt has a cool vintage, distressed look to it

Mickey Mouse Sleeveless Shirt

In some photos, he is seen sporting a Mickey Mouse sleeveless shirt – which is a pretty novel choice for a rock star. Axl's shirt is white but it should carry the look across

Cross Necklace

Axl wears a cross pendant necklace in many of his photos.

Stars and Stripes Shorts

Show off your patriotism! In one of the concerts, Axl was wearing a pair of patriotic shorts (boxer shorts at that) and nothing but tattoos for a top.

Heart / Wings Tattoo Set

Axl has a lot of tattoos going on. On his left bicep, he has a tattoo of a heart with wings. You can use this set to make your own

Black Boots

To cap off the outfit, he wears a pair of black combat boots with white socks inside. Probably to keep him warm since he's just wearing a pair of shorts

Black Leather bracelet

Axl wears a whole lot of arm candy. Go ahead and mix and match. This simple black leather bracelet is a keeper even for everyday wear

Plaid Shirt to be wrapped around your waist

Here's another idea: wrap your waist with a plaid shirt like Axl sometimes does. Long live 90s fashion!