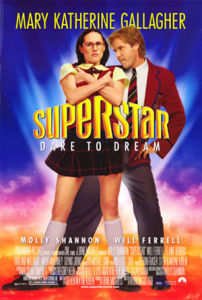 Dare to dream! Dress up as the Catholic schoolgirl, Mary Katherine, and try to win superstardom (and the affections of heartthrob Sky Corrigan) at the talent search contest! This is a fun couple costume idea that SNL fans will especially love
Table of Contents:
Dress up as Mary Katherine Gallagher (Molly Shannon)
Some extra things you can do for added hilarity:
1. cross your fingers over your chest like she always does (see photo above)
2. say some of her memorable lines like – "Are you aware that I am rubber, you are glue and everything you say to me bounces off of me and sticks to you?"
3. Do the robot dance
Don't do: kiss trees. Because: splinters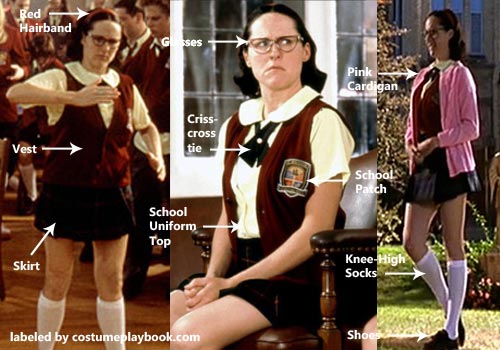 Eyeglasses

She wears a pair of eyeglasses

Black Criss-Cross Tie

Every Catholic high school uniform contains a tie. In this case, it's a cute little criss-cross tie

Red Headband

To add to the schoolgirl look, Mary sports a red headband

Peter Pan Collar Blouse

Wear a blouse with a Peter Pan collar for the inside shirt

Button Sweater Vest

Over the blouse, wear a red vest. Mary's vest is a button type vest like this one. Make sure the collar is shown above the vest, and make sure your tie is visible. You can also stitch the school emblem on the vest (see below)

Fake School Patch

Her vest has an emblem of her school, which looks like a Coat of Arms. There isn't an exact replica of the school logo available, but this Irish coat of arms patch should do the trick

Pink Cable Knit Cardigan

In several occasions, she wears a pink cardigan (most memorable time was when she was kissing the tree haha)

Plaid Skirt

Get yourself a nice plaid skirt like this one – another staple in school girl uniforms. I can imagine wearing this to the office, too!

Knee High Stockings

Such a girly piece

School Shoes

Wear a pair of school-appropriate shoes like these loafers. Don't forget your knee-high socks for that cute girl look!
Dress up as Sky Corrigan (Will Ferrell)
Check out how to dress up as the high school heartthrob / hunk of beefcake on the rebound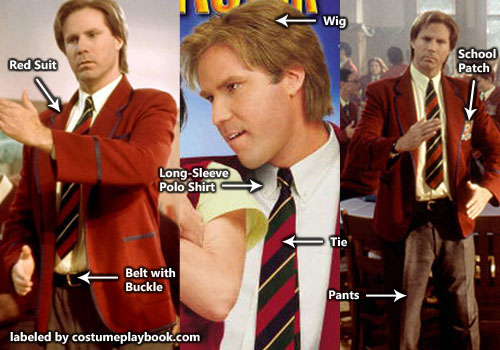 Red Blazer

Sky's school uniform consists of a red blazer with black lining details. A plain red blazer should suffice, but if you'd like to go a bit DIY, you can get some black fabric and stitch onto this piece

Belt w/ gold buckle

A basic belt with gold buckle is all you need – an everyday wardrobe staple for men, too!

Diagonal striped tie

Most private school boys (from Gossip Girl to Hogwarts) wear a necktie with a diagonal striped pattern. Why that is, I don't know. In any case, this looks really good and is affordable, too

Fake School Patch

His blazer has an emblem of his school which looks like a Coat of Arms. There isn't an exact replica of Sky's school logo available, but this Irish coat of arms patch should do the trick