The popular animated series Wreck it Ralph has come out with a sequel (Ralph Breaks the Internet), and the kick-ass character Shank, played by Gal Gadot, is definitely an awesome costume peg!
To make it a fun group costume, you can get your friends to dress up as Vanellope> and Ralph, who are still sporting the same costume from Wreck it Ralph 1. Get some to dress up as Disney princesses too!
Dress up as Shank (Gal Gadot)
Dress up as Shank, from a video game in Wreck-it Ralph called Slaughter Race – a street racing game, who will apparently play a big-sister role to Vanellope. I love how easily accessible the pieces of Shank's costume is. With just a few key things, you can definitely get this look going, and feel ultra comfortable too. For the makeup, go a bit heavy with the dark makeup under the eyes, and thick eyebrows.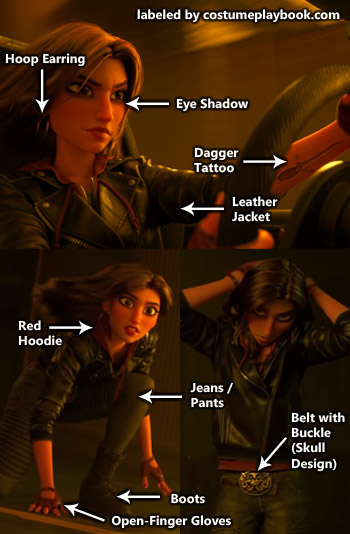 Gold Hoop Earrings

First up — wear a pair of gold hoop earrings. This is gorgeous and inexpensive — a piece you'd wear to a future occasion for sure

Maroon / Plum Hoodie

Your first layer is a hoodie in a maroon/plum shade. Get one in that will fit snugly so you can wear a leather jacket over it

Leather Moto Jacket

You can never go wrong with a leather jacket. Nuff said. Unzip it slightly then make sure the hood and string of your hoodie are peeping through. In certain scenes, she even wears her hood

Temporary Dagger Tattoo

Get a temporary dagger tattoo on your left arm

Brown Fingerless Gloves

To look extra cool, sport a pair of fingerless gloves in a brown hue

Optional: Skull Buckle

If you want to be extra detailed, consider wearing a belt with a skull buckle, like Shank does. This isn't the exact replica, but any skull theme should work nicely.

Dark Brown Belt

The buckle above can be attached to this belt if you don't have a 1.5″ belt lying around in your closet yet

Ankle Length Combat Boots

Of course you have to wear boots! Get the low-cut flat heel boots. For the pants – any dark skinny jeans should pull the trick.