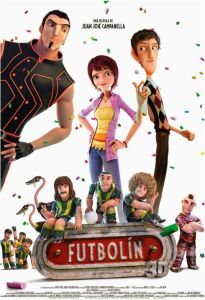 Watch Foosball come to life… literally! Dress up as Lara, Amadeo, or the animated Foosball team. A great couple and group costume. This movie is also known as Underdogs and Metegol
Table of Contents:
Dress up as Laura / Lara
Dressing up as Laura is a breeze! If you're looking for a super comfy costume from a recent movie, then this is your best bet. Have your BFF / boyfriend dress up as Amadeo.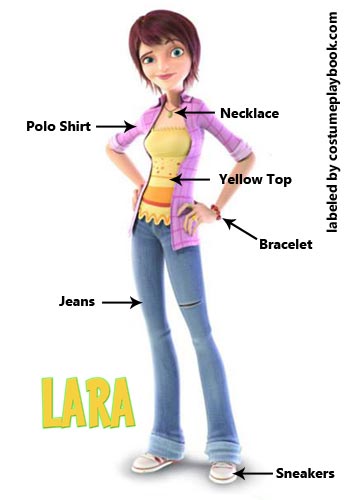 Laura's necklace: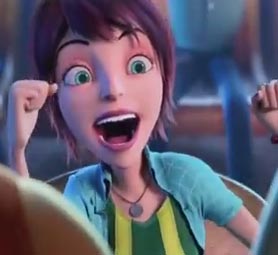 Side note: Is her name Laura or Lara? In most places, she is named Laura, but in the poster, it says Lara. Anyway, you pronounce it pretty much the same way.
Yellow Tube Top

Wear any yellow top inside, preferably a tube or spaghetti strap. If you can find a printed one you like, even better.

Short Brown Wig

Laura has short brown hair with a style similar to this one. This wig is actually for a male character for the anime Attack on Titan, but I think it should work well for females too

Circle Pendant Necklace

You'll notice that Laura wears a pendant necklace. The photo above shows a zoomed-in look of the necklace, and it looks to me like a simple flat circle pendant similar to this one.

Pink Polo Button Down Shirt

Over the yellow top, wear a nice unbuttoned pink plaid shirt like this one and fold up the sleeves until the elbow. I'm always a huge fan of this unbuttoned shirt + inner top look – I think it's very cool. This particular top is conveniently lightweight. Wear a simple pair of tight jeans (preferably something with a slightly flared end – folded up) and a pair of comfy sneakers.
Dress up as Amadeo
The foosball expert has a huge crush on Laura, making this a good couple costume idea. Just like Laura, dressing up as Amadeo is super easy!
Brown Argyle Vest Sweater

The foosball expert wears an argyle sweater vest. "Chicks dig argyle!"

Short Sleeve Poplin Shirt

Wear a button down collared shirt underneath the sweater. For the pants, wear a basic pair of trousers (preferably the kind that's a little too short for your height – you can fold the ends to mimic this look). A pair of loafers completes the look
Dress up as The Foosball Team
The important part to dressing up as the Foosball team is to make your outfit look like it's made from wood or plastic. If you see the photo above, the team's outfits have a nice sheen to them. You can probably experiment with some melted wax or petroleum jelly for this – warning: it might get messy.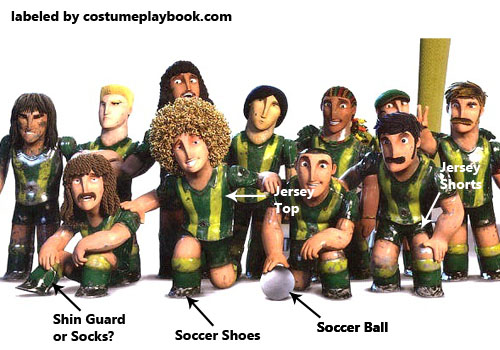 Football Jersey Shirt

Unfortunately, the exact replica of the Foosball team's jersey – green and yellow striped – is not available. You can, however, improvise and wear something like this which has the same fit and look.