The Breakfast Club
Dress up as "Princess" Claire Standish (Molly Ringwald)
I LOVE Claire's look. Even considering wearing it out one of these days!
Other accessories you can bring: a sling bag and a thin wristwatch worn on the right wrist. You can even bring sushi hehe!
Have your beau dress up as John Bender for an awesome retro couple costume!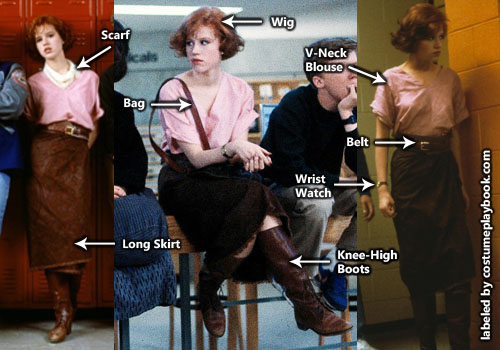 Curly / Messy Short Hair

Claire has messy short ginger hair. Its red orange hue has a cartoonic, cosplay quality to it.

Curly / Messy Short Hair

This is another alternative, though this is more of a blonde hue.

White Neckerchief

She wears a white neckerchief tucked underneath a pink V-neck tee

Loose Pink V-Neck Shirt

I chose this tee because it has a nice loose fit and a deep V-neck like the one Claire wore. Fold the sleeves a bit and tuck into your skirt

Brown Corduroy Maxi Skirt

Claire's skirt is long and seems to be made from cowhide, but this corduroy one is a good alternative and should give you a very hip style. Ideally put up the skirt a bit so that your boots are more visible




Thin Brown Belt

If you decide to buy a skirt without any belt included, consider buying this nice basic skinny brown belt

Knee-length Boots

This pair looks like a winner, and has received mostly positive responses.
Other Breakfast Club Costume Guides
Dress up as the other characters of Breakfast Club. Guides below: