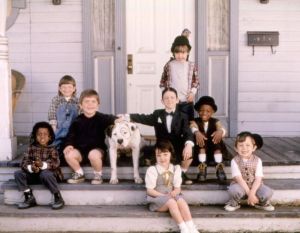 This 90s film brought us a lot of memorable characters – Darla, Alfalfa, Spanky, Porky, Buckwheat, Stymie, Froggy, and Uh-Huh.
This is a great costume for large groups. Also, couples can dress up as Darla + Alfalfa!
Table of Contents
Click on any of the characters below to view their costume guides.
The Little Rascals Reunion
The cast of Little Rascals just reunited this year and recreated their poster. How cool is that? Idea: Get your group to re-enact the poster, too!