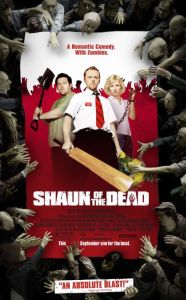 Grab a nearby household item near you. Time to go zombie mode and dress up as Shaun and Ed. This is a hilarious costume idea for best friends. I mean seriously – what could be a better definition of a best friend than someone who would still play games with you even though you've turned into a zombie?
Dress up as Shaun
Shaun is your average office worker who suddenly decides to take on the zombie apocalypse. With a few simple easy pieces, you can pull off his look perfectly! If your best buddy will be coming as zombie Ed, then bring a video game controller with you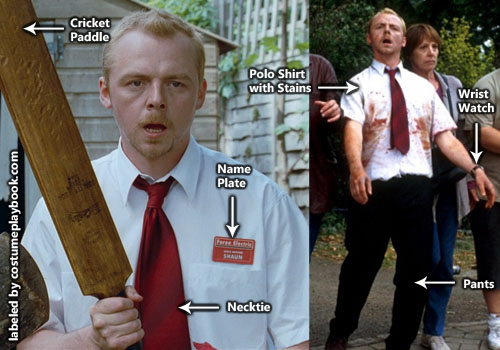 White Short-Sleeved Shirt

Shaun wears an average white work shirt with short sleeves. Smear with blood using the fake blood prop below

Fake Blood

Smear some of this fake blood on your shirt for more realistic effect

Red Necktie

In some scenes, Shaun ties the necktie around his forehead ala Rambo

2X4 Nametag Bumper Sticker

One of the most distinct elements to the costume is Shaun's name tag from Foree Electric. This bumper sticker mimicking that name tag is available, and would be a good choice. You can stick directly onto the shirt but the better suggestion is to stick it on top of an ID card holder which you can then easily pin on and off your shirt – that means you can dress up as Shaun again next time!

Cricket Bat

Shaun's weapon of choice: the cricket bat!
Dress up as Ed
You can either dress up as human Ed or zombie Ed. When dressing up as zombie Ed, try to bring video game controllers for added effect.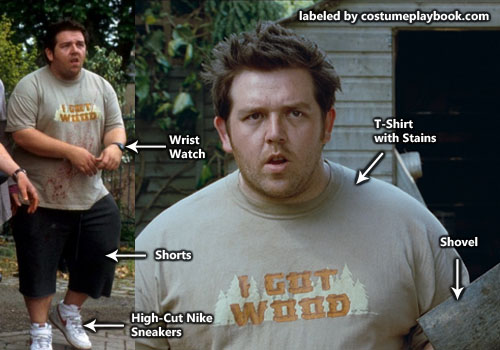 "I Got Wood" Graphic Tee

Lucky for us, the exact replica of Ed's graphic tee is available! The graphic tee will make for a funny casual shirt even outside the costume party.

Shovel

Ed's weapon of choice? A shovel with a D handle!

Fake Blood

Like Shaun, smear some fake blood all over you. If you want zombie mode Ed, you can opt to smear some of them on your face as well then get yourselves some video game controllers.

Chain and Leash

If you're going as zombie Ed, wear this around your neck and wrists. I found a lot of erm interesting stuff on Amazon while searching for this.

Zombie Makeup

If you want to go as Zombie ed, then consider getting this makeup set.
Here are the 2 best buds playing video games together. Awww… aren't they sweet?