Napoleon Dynamite Costumes
Dress up as Napoleon Dynamite (Jon Heder)
Jon Heder's characters are almost always very remarkable and memorable, and Napoleon Dynamite is definitely testament to that! Moon boots, glasses, and unusually hip dance moves… there are a ton of hilarious pieces to this costume. Have fun!
Bonus: for that extra touch, consider wearing fake teeth to make your 2 front teeth slightly bigger
Couples: dress up as Deb and Napoleon
Best friends: dress up as Pedro and Napoleon
Siblings: dress up as Kip and Napoleon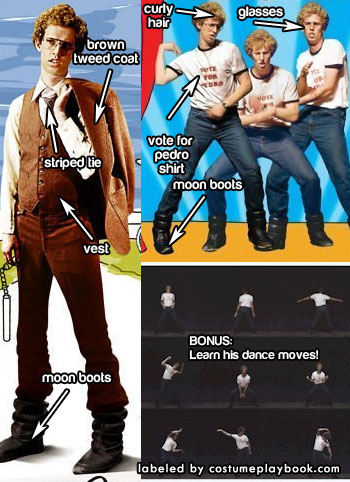 A closer look at his spectacles: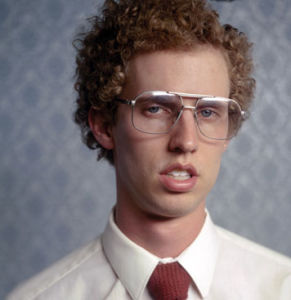 Napoleon Dynamite Costume Set

This set contains all the things you need – wig, glasses, "Vote for Pedro" shirt, and moon boots. Surprisingly, everybody loved the set so this will definitely make your life much easier!

Vote for Pedro T-Shirt

If you want to buy things separately, here's the Vote for Pedro t-shirt he sports when he does his dance to the beat of "Canned Heat". Be sure to memorize his smooth moves, too!

Endurance Graphic Tee

In another scene, he is seen sporting a graphic tee with "Endurance" written on it. To have that word plastered on Napoleon Dynamite's always makes me laugh.

Safety Aviator Glasses

If you notice, Napoleon's glasses aren't your typical aviator type glasses. They have an extra bridge on the nose. This pair fits it perfectly.
Learn the Dance Moves!
Step 1. Bop your head
Step 2. Sway from side to side
Step 3. Surprise semi- split!
Step 4. Square Dance
Step 5. Stop with your booty to the audience, move your hands up
Step 6. Surprise about face back to the crowd
Step 7. Disco boogie!
Step 8. Pump
… you get the drift
In case you're wondering, the song is "Canned Heat" by Jamiroquai!
Other Characters from Napoleon Dynamite