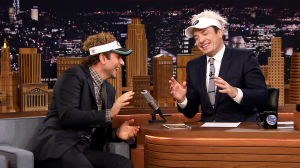 Dress up as Jimmy Fallon and Bradley Cooper from the "visor" / Elephant Man episode of The Tonight Show, when they both couldn't stop laughing! This is a fun costume idea for best buds!
Table of Contents:
Dress up as Bradley Cooper
The subject matter behind his broadway show, "The Elephant Man" is actually pretty depressing but when you and the talk show host are wearing a visor with a goofy wig – a humorous nod at his visor getup back in Heathrow airport – it's hard to keep a straight face! Relive that momentous moment by getting your buddy to dress up in a suit and a funny visor!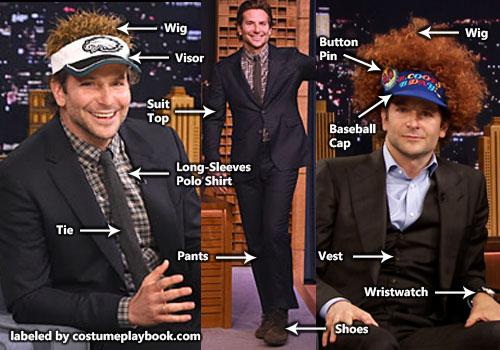 Philadelphia Eagles Visor with Wig

Both Bradley and Jimmy's visors are from NFL teams. Bradley Cooper's visor seems to be from the Philadelphia Eagles (is it a subtle reference to his

favorite team in Silver Linings Playbook

?) In the episode, his is a white visor with brown hair. This one is of a different color but has the logo right.

Brown Hair Dye

Since the wig is white, it should be really easy to dye the wig any color you want. If you're going for complete accuracy, you can get a brown hair product like this one.

Checkered / Gingham Dress Shirt

Get yourself a nice, respectable checkered dress shirt – a stark contrast to your headpiece
Dress up as Jimmy Fallon
Despite Jimmy Fallon's extensive experience with all sorts of comedy, The Tonight Show host couldn't contain his laughter as he interviewed Bradley Cooper wearing a visor hat. Good one, Jimmy!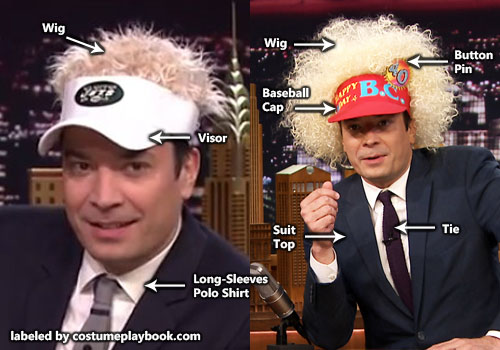 New York Jets Visor with Hair

Jimmy Fallon's visor cheers for the NFL team, New York Jets. The hair on this Jets visor is colored green but the other colors are on point.

Bleach Hair Dye

If you want your wig to be platinum blonde just like Jimmy Fallon's, then you can get yourself a bleach hair dye like this one to color your wig.

Tonight Show Mug

For that extra prop, bring along an exact replica of his Tonight Show mug along with you.