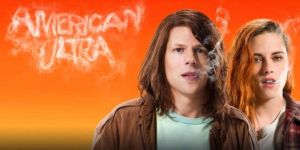 What could be a more fun and easy matchy couple costume than the outfits of the plaid-wearing, always-high, super agent Mike and girlfriend Phoebe from American Ultra?
Table of Contents:
Dress up as Mike Howell (Jesse Eisenberg)
Dress up as Mike (Jesse Eisenberg), the convenience store clerk turned super government agent who can use a simple spoon to kill an enemy!
Some extra props you can bring: cigarette or a bloody spoon
A close look at his name tag (bloody nose optional):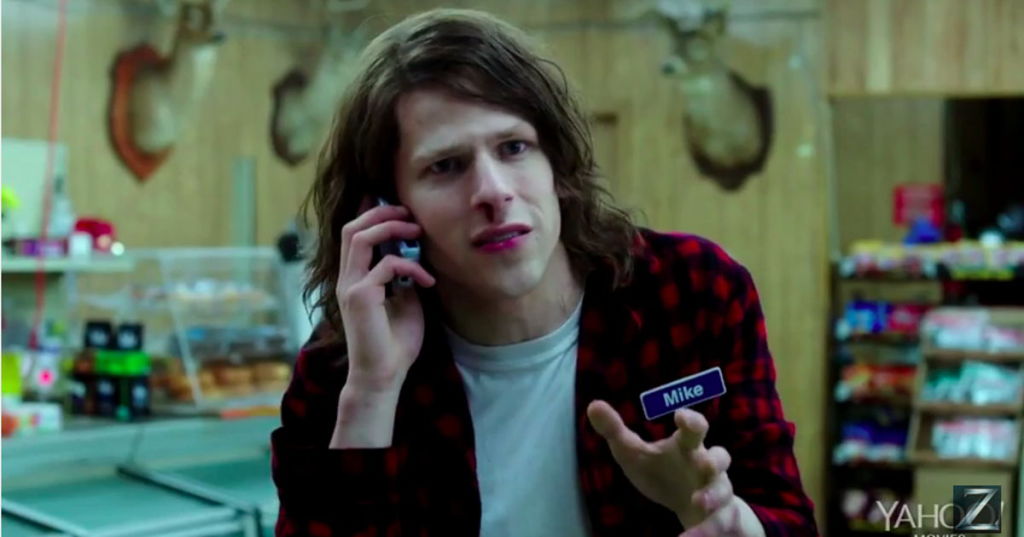 Aviator Sunglasses

A pair of aviator shades always makes you look cool – especially amidst epxlosions and stuff.

Name Tag

Order the blue and white name tag (blue background, white text) and have them engrave Mike on it (in title case).

Fake Blood

To add an extra touch, you can place fake blood under your right nostril OR use it to coat a simple silver spoon with it – one of Mike's first lethal weapons!

Airsoft Pistol

Buy a BB pistol and look the part of the partners on a mission to save the world… er, or save their arse.

Red / Black Plaid Flannel Shirt

Now for the fun part! I think your boyfriend won't detest the whole matchy matchy couple thing, when he finds out you're dressing up as the American Ultra characters. Mike's plaid is a bit on the thicker, chunkier print, like this one. Underneath, just wear a basic loose white crewneck shirt. For the bottom, a pair of your favorite jeans would work.

Rubber Shoes

Wear a pair of plain-looking rubber shoes. If you have one lying around in your closet, that would be perfect
Dress up as Phoebe Larson (Kristen Stewart)
Dress up as Mike's girlfriend (played by Kristen Stewart), Phoebe and get in on the super secret government agent action!
A close look at her multi-colored hair: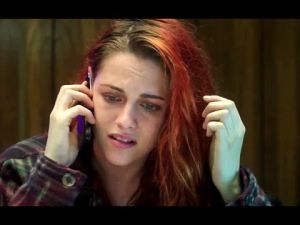 Red-Orange Wig

Phoebe's hair is an interesting shade that shows her natural blonde-brown roots and red-orange ombre strands. She also parts her hair to one side. I saw this wig that shows the same ombre look, though this wig might look a tad more luxurious than Phoebe's. If you want to make it a bit trashier, you can dishevel it with your hands. You can also experiment with some hair dyes and mess with the roots area a bit. You'll also need to trim this up a bit

Aviator Sunglasses

Sport a pair of cool sunglasses just like your beau. Isn't that cute?

Airsoft Pistol

Buy a BB pistol and look the part of the partners on a mission to save the world… er, or save their arse.

Red / Black Plaid Jacket

Wear a chunky red / black plaid jacket.

Red Flannel Plaid Top

You could also go for a shirt instead of a jacket. I couldn't find the exact replica of her most complicated plaid pattern; so instead, just go for a plaid pattern just like Mike's! Any red/black plaid pattern should do. Match with a pair of jeans.

White Midriff Top

Underneath, wear a white midriff top that isn't too fit. If you're uncomfortable with crop tops, feel free to go for a basic white tee – it shouldn't affect the whole getup significantly.

Combat Lace Boots

Wear a pair of ruggedly fashionable boots and unravel the laces. Everyone loves this one – and it's easy to tell why!
Trailer
If you haven't watched it yet, you should do that now!