Marty McFly
Marty McFly is one of the most memorable characters to ever grace our screen. Michael J. Fox simply did a perfect job of an unwitting yet charming time traveler. Likewise, because the character is such a legend, he has a lot of distinct outfits throughout the course of the Back to the Future Trilogy. Check out all of the "far out", "heavy" costume ideas below and I hope you have as much fan as I did, putting all of these together.
Table of Contents:
Dress up as Marty McFly (BTTF Part 1)
Here's Marty from the first movie. The year is 1985. (Cue in OST song, "Power of Love").
He wears quite a layered outfit:
First layer: Red, plain round neck, short sleeve tee.
Second layer: Checkered collared long sleeve shirt (top buttons open)
Third layer: Suspenders
Fourth layer: Denim jacket (unbuttoned) with the checkered shirt sleeve showing at the end, and folded onto the jacket. Additional details: There are three pins attached to it on the upper left portion – an "Art in Revolution" button pin, a boomerang pin, and a pin of a guitar.
Fifth layer: The quintessential red-orange "Marty McFly"-esque down vest (unzipped)
He then wears a simple pair of jeans (many have said the brand is Guess) and a pair of white running shoes / sneakers. For accessories, wear a Casio watch and bring a skateboard or guitar. According to sources, the watch is a calculator watch.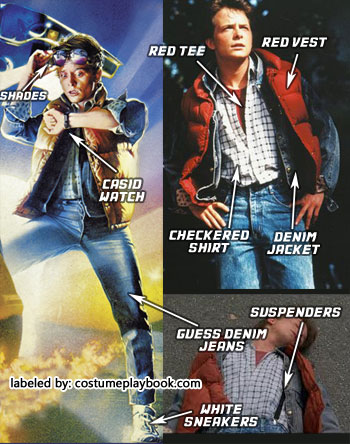 A closer look at this shirt + suspenders look (if you prefer not to wear the denim jacket and vest):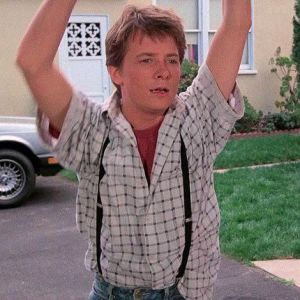 Cardinal Red Crew Neck Tee

The very first layer is a cardinal red crew-neck tee. Try to get one that fits you snugly as you have 3 more layers to go!




Black and White Checkered Shirt

2nd layer: a black and white checkered top. This is not the exact replica but it comes pretty close! Plus, it's short-sleeved too! Any dark color + white plaid/gingham/checkered collared shirt should do the trick, so feel free to go through your closet to look for a close match.

Black Suspenders

Next up: wear some good ol' black suspenders. You can actually stop here and wear a pair of jeans, as Marty is seen with just this basic look. However, if you'd like to wear his distinct red puffy vest then read on.

Denim Jacket

Get yourself a nice, rugged denim jacket that gives a definite retro 80s vibe to it! In some scenes, he folds up his sleeves a bit

Red Sleeveless Down Vest Option 2

Now for the piece you've probably been waiting for: the red puff vest! This one is quite inexpensive and would do perfectly for your costume, as well as for the winter days

Casio Calculator Watch

Finish off the look with a pair of jeans, a pair of white sneakers, and a ridiculously retro Casio calculator watch!

Aviator Sunglasses

You can also wear a pair of aviator shades as he does in several scenes




Marty McFly Outfit Graphic Tee

Okay, I saw this one online and couldn't help but feature it! I mean look at it – it's got all the layers printed in one tee. Even the back portion is detailed! If you're a super Back to the Future fan like I am, consider getting this piece and showing this off to everyone. Just note that some people are saying the material's a tad thin
Dress up as Marty McFly (BTTF Part 1 – Calvin Klein)
"Calvin? Wh… Why do you keep calling me Calvin?"
"Well, that is your name, isn't it? Calvin Klein? It's written all over your underwear."
It's Risky Business, BTTF Style! If you're going to a more private costume party with good friends, you might wanna consider wearing Marty McFly's outfit during the time when he wakes up to see his mother… decades younger! He wears a red tee and purple Calvin Klein underwear. You can bring a blanket / comforter and wrap it around you to cover yourself up… as well as for additional effect (just make sure the "Calvin Klein" band still shows!)
Dress up as Marty McFly (BTTF Part 2)
In the second movie, Marty is transported to the future. The year is 2015, a year of 3D holograms, hoverboards, flying cars, jackets that dry automatically, hydrated pizza, and shoes with power laces. (What the hell, science and technology!? It's already the year 2015 and we've barely skimmed the surface of these technologies!)
He wears a rainbow cap his silly son wears, a cool pair of aviator shades, a red/gray jacket made from some heavy duty rubber over his trademark red round-neck tee, and a sleek looking pair of running shoes which looks awesome even in today's standards.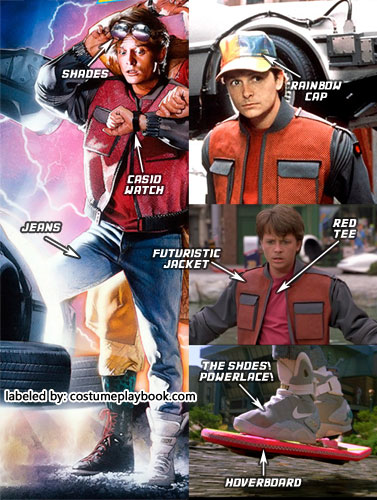 Rainbow Cap

The most distinct part of the Back to the Future 2 outfit is that ridiculous rainbow cap. The shimmery material is supposed to make it look futuristic. The movie predicted we'd this kind of clothing by this year. Thankfully, the prediction wasn't correct haha!

Futuristic Jacket

The jacket is also pretty futuristic and automatically adjusts its size depending on the wearer (now this feature I would like to see in the clothing rack soon!) This looks like a very good replica. Some people are saying the sleeves aren't that good, but I think that would lend a humorous touch to show Marty's look before he activated the size adjustment feature. Match with a pair of jeans.

Aviator Shades

Once again, wear a pair of aviator sunglasses.

Futuristic Monoblock Sunglasses

OR – if you're feeling extra futuristic, you can wear this modern pair

Hoverboard

If you're as obsessed with the movie as I am, then you'd probably want to buy a Mattel Hoverboard replica, which looks exactly like the one in the movie. Except it doesn't hover though so don't go pissing off any beefy guys ala Biff!

Back to the Future Power Lace Shoes

I was so ecstatic when I saw this pair online! It's such a good likeness to the actual pair! And it lights up too! It's awesome enough for me to forget the fact that there is no power lace feature.

Calculator Watch

Marty still sports his calculator watch in this movie.
Dress up as Marty McFly (BTTF Part 2 – Undercover Outfit)
In the second Back to the Future movie, Marty had to go back to 1955 again to the Enchantment Under the Sea dance in order to recover the Sports Almanac. Since his other self is already at the dance, the second Marty had to go incognito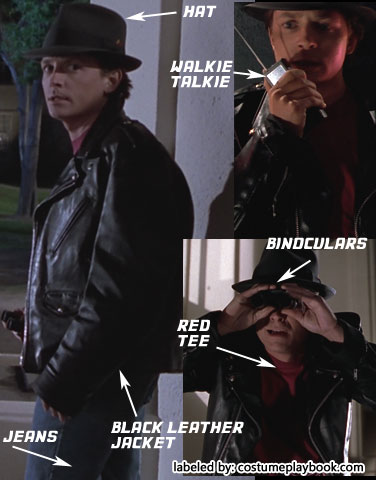 Black Fedora Hat

If you're going incognito, you may as well do it in style! Marty McFly dons a cool black fedora hat

Cardinal Red Crew-neck Tee

He's still wearing his distinct red crew-neck tee. That tee color should be dubbed as the Marty tee!

Black Leather Jacket

Now for a cool black leather jacket!

Sports Almanac

You can bring the 1950-2000 Sports Almanac as a prop – the very root of all the problems. If you're a fan of the movie, you'd probably frame this up or put it on a pedestal after the costume event

Binoculars

For your extra prop: a pair of binoculars and a Walkie Talkie (see below)

Walkie Talkie Two-Way Radio

No retro spy show should exist without a walkie talkie!
Dress up as Marty McFly (BTTF Part 3)
Yee hah! Cue in the line dance music, Marty's back in the wild, wild west! The year is 1885. Doctor Emmett Brown is about to get shot by Biff Tannen and Marty aka Clint Eastwood ("What kind of stupid name is that?" – Biff) isn't going to let that happen! Together, Marty and Doc must go back to the present time, but not without some hitches, like the pretty teacher that catches Doc's eyes.
Marty has three Western outfits in the show. He starts off with a pretty ridiculous looking cowboy outfit with a clash of red, pink, and blue colors (with yellow fringes, no less!). Later on, he gets dressed in subtler shades of brown with a dull dusty blue scarf.
In the duel, he channels his Clint Eastwood persona with the wandering gunman poncho (and a surprise bulletproof suit inside!), while holding his Colt Peacemaker.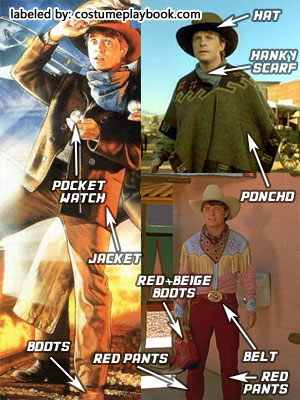 Cowboy Getup Set

To go from Marty McFly to Clint Eastwood, you need an awesome cowboy costume set like this one! This comes with a poncho, vest, and neck scarf

Dillinger Flat Top Hat

Next: wear a brown Western hat with a flat top.

Pocket Watch

The most distinct prop he carries is his pocket watch
Other BTTF Characters
Click on a character below to view full costume guides from the three Back to the Future movies!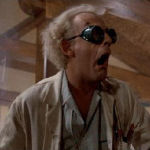 Doc Emmett Brown