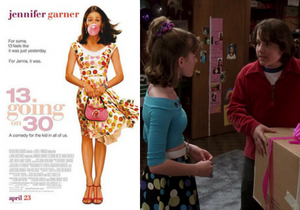 Dress up as Young Jenna and Young Matt for a cute couple costume! Say au revoir and arrivederci to boring, redundant costumes, and hello to a fun and unique idea that a lot of people will recognize
Table of Contents:
Dress up as Young Jenna
Dressing up as Young Jenna during her party is such a blast because everything is just so colorful and 80′s!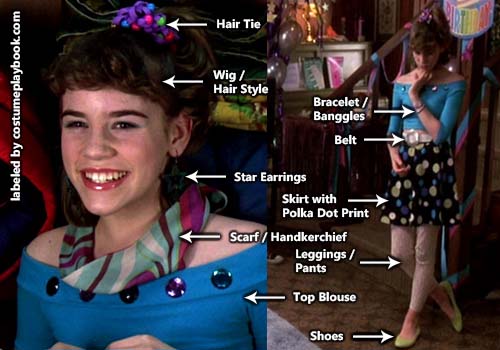 Quirky Coiled Hair Tie

First tie your hair up in a very high ponytail using these quirky hair ties. You can put in pink and purple for a fun and colorful look

Off the shoulder Turquoise Top

Next – wear an off the shoulder turquoise number. The sleeves are shorter than Jenna's but the color and tight fit is on point, so I think this is a very good replica (The 80s fashion is really back huh?) Tissue inside the shirt optional

Gems

To add that extra fun and teenager look to the top, consider sticking these gems on the collar of the shirt just like Jenna's. These gems come with adhesive at the back for easy application. They probably won't stick for long, but at least it would be easy to take them off after. Be sure to use an assortment of colors

Neckerchief

Optional – For an extra touch, you can place a handkerchief over your neck – the one that was used to blindfold Jenna. Any handkerchief you have lying around your house should be fine as long as it's dainty. If you're buying this one, I'd recommend using the purple one

White Belt

Jenna sports a white belt with a floral detail in the middle. This isn't an exact replica but should come close, and the belt isn't too thick, just like the one the teenager wears too.

Polka dot short skirt

You can never go wrong with a fun polka dot short skirt! For the shoes, any simple ballet flats should do

Lace leggings

Underneath the skirt, she sports a pair of white lace leggings. So many colors and textures going on!

Star Earrings

Time to accessorize! Wear a bangle and a ring, then for the earrings, these outline star earrings would be perfect.
Dress up as Young Matt
Young Matt has a very old fashioned look going on and it's super easy to pull off. Bonus – consider playing "Burning down the House" and dancing that awkward dance of Matt's as you walk inside the costume party!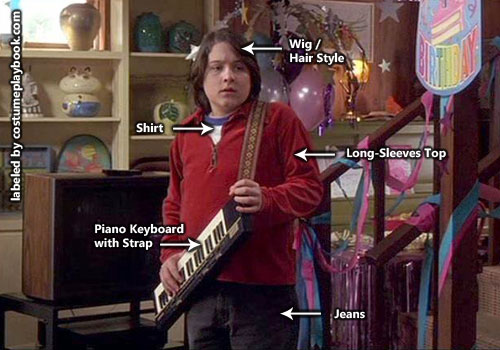 Blue and White Raglan

Wear a white raglan tee with a blue collar detail – this should show underneath the red shirt

Red Collared Top

Make sure to buy 1 size loose to give it the same loose style as Matt's.

Inflatable Keyboard

Here's a fun addition. Sling an inflatable piano keyboard over your shoulder. Voila – you're done! Now go get the girl and avoid being friendzoned!
LOOK HERE! It's a giveaway just for you