Jumanji 2 Movie (2017)
Dress up as Smolder Bravestone (The Rock)
Get your smolder on as Dwayne Johnson's Smolder Bravestone, a hunky beefy Indiana Jones. Ask your friends to dress up as the rest of the Jumanji 2 cast or ask your significant other to come as Ruby Roundhouse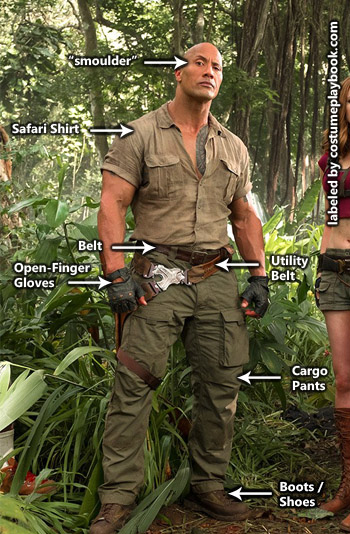 Bald Cap

Wear a bald cap and use some spirit gum for adhesive purposes.

Spirit Gum

This is used to adhere the bald cap onto your forehead. It comes with the remover as well when your costume party is done. If you want a tutorial, go to: https://www.graftobian.com/Bald-Cap-Kit-Instructions_ep_56-1.html

Shirt with Pockets

No jungle expedition is complete without a safari-like shirt. Smolder's material is softer, almost like linen, but you can opt for this one, which is very affordable (and has had very positive reviews). You may want to get a size that fits snugly on you, to get those biceps to pop out (optional)

Drop Leg Messenger Bag

He has 2 belts – the usual belt that you place around your pants, and another that was said to be inspired by Han Solo's getup. The belt comes with a pouch and a leg strap. There is not exact replica, but I found this awesome messenger bag that comes with the leg strap on – it has that perfect rugged look going on and should do the trick.

Fingerless Gloves

There's always something bada** about gloves – these fingerless gloves are just 10 bucks and I'm sure you'd be able to use this for many future costume purposes.

Black Body Paint

My favorite detail is the life bar. It's very simple but it will really carry the Jumanji feel across. You can use any body paint to draw the bars.
Other Characters of Jumanji 2 (2017)