Table of Contents: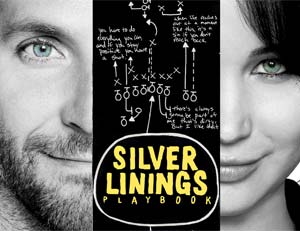 Here's a quirky, cute costume idea for a couple – dress up as Pat and Tiffany from Silver Linings Playbook, a more candid, edgy, and real take on your average rom-com. Not only was the movie a great hit, and the chemistry between the two characters palpable, their outfits were very memorable, too! (And fashionable, at least in Tiffany's case)
Dress up as Pat Solitano (Bradley Cooper)
Pat: My friend Ronnie is having this party on Sunday night and it's like a real hoity-toity thing… My mom got this Gap outfit she wants me to wear, but I want to wear a jersey that my brother Jake got me from the Eagles
Dr. Cliff Patel: Which jersey?
Pat: DeSean Jackson.
Dr. Cliff Patel: DeSean Jackson is the man.
Pat: Well, that settles that.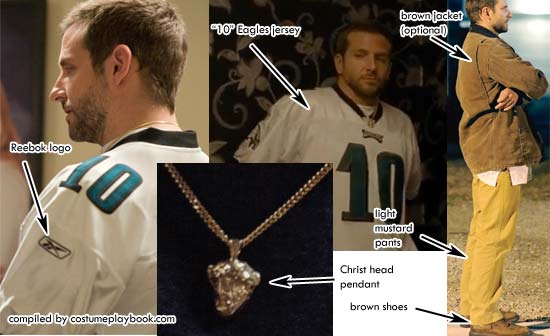 Reebok Philadelphia Eagles Number 10 White Jersey

I'm so happy to have found the exact jersey shirt Pat wore! It even has that Reebok logo, too! Pat decides to wear a jersey of DeSean Jackson to a dinner party. He wears this a couple of other times, making it the most distinct shirt he ever wore in the movie. You can't go wrong wearing this jersey – his psychiatrist says it perfectly: "DeSean Jackson is the man"

Gold Necklace with Jesus Christ Pendant

Curious what necklace he is wearing the movie? In an interview, Bradley Cooper himself said it was an art deco Jesus Christ pendant.

The pendant below bears a very close resemblance the one Pat wore except that this is silver-toned. The good news is that it is

pretty affordable, too!

Light Yellow Pants

Pat pairs his jersey with a pair of pants in a light mustard color similar to this one.
Dress up as Tiffany Maxwell (Jennifer Lawrence)
Was I the only one who fell in love with ALL of Tiffany's outfits? They were so classy and they fit her so perfectly! Most of her outfits were black – a befitting color for her personality in the beginning.
To keep with her all black outfit, paint your nails black.
Black Cardigan with Buttons

Tiffany wears a basic black cardigan with buttons that fit her body perfectly. She unbuttoned the first few to show off her cross necklace and unbuttoned the last two buttons as well

Black Pleated Skirt

Her skirt has a lot of pleat details in it. You can opt for this knee-length one, which you can certainly wear to work. It's a tad longer than the one Tiffany wore

Shirred Black Skirt

This skirt is shorter than the one above and is an even better candidate.

Cross Necklace with Black Beads

She wears a nice cross pendant with black beads inside. This one is a similar piece and has that same vibe to it. Very dark, like Tiffany's mood

Black Double Breasted Trench Coat

I LOVED her coats in the movie. I've always been a sucker for trench coats. I believe she wears a black one to keep with her motif

Black Pumps

A nice pair of black pumps finished the look very nicely. Again, this is another staple in your office wardrobe. (Don't mind the color in the photo; the link should lead you to a black pair)
And now for an awesome video ode to Pat and Tiffany: