Dress up as the undercover beauty pageant, Gracie Hart aka Miss New Jersey, Gracie Lou Freebush! Glass harping skills are optional but a great, hilarious plus
Dress up as Gracie Hart / Lou Freebush
She's beauty and she's grace… and very fierce, too! Gracie has always been a bit of a tomboy at the FBI agency but when the bureau gets a nasty threat that will terrorize the upcoming Miss United States pageant, she becomes their best bet for an undercover agent. Against her wishes, she undergoes an intense makeover, but keeps her feisty attitude of course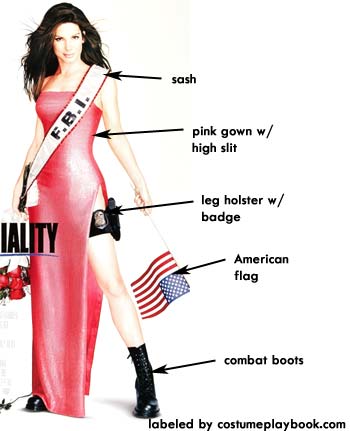 Pink Tube Dress with High Slit

This, for me, is the closest and best match! The color is perfect, the high slit detail is there, and it looks like an elegant enough dress




Blank White Sash

Now for the fun quick DIY part! Get yourself a nice blank white sash like this one then place "F. B. I." on it. There are several options to do this – the quickest, and probably not the cleanest way is to use a thick Sharpie or some paint pen. Find one that would work best on a silky material such as this one. The other option is to use iron-on letters. The third is to print out big bold letters using your printer, cutting them up then taping them onto the sash using some double-sided tape.

American Flag

In the poster, Sandra Bullock holds an American flag – perfect for a super dedicated FBI agent / United States pageant like herself.

Leg Holster

The reason why you need a high-slit skirt is because you'd like your leg holster to show! This one has gotten a lot of good reviews although some have noted it won't fit larger thighs.

Fake FBI Badge

Notice that her holster also carries a badge? A prop FBI badge would do the trick – just use the belt clip to secure onto the holster

Airsoft BB Pistol

To make you look more like a legit undercover agent, place a fake gun on your holster.

Combat Lace Boots

Last but not the least, wear some combat boots – a stark and smart contrast to her girly dress!