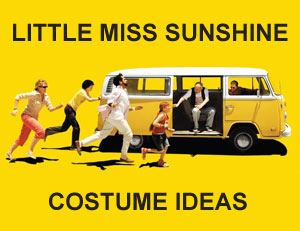 Dress up as Olive, the little ball of sunshine from this comedy drama indie flick that graced the screens last 2006. Your costume will be a memorable hit!
Dress up as Olive Hoover
Olive (Abigail Breslin) loves beauty pageants. So imagine how stoked she was when she found out she got into the Little Miss Sunshine pageant! The catch is that the competition is held outside of their Albuquerque. The whole family reluctantly agrees to go on a long road trip in their Microbus to support Olive's dream. Along the way, we see all of Olive's quirky and bright outfits. Choose which of the 2 below you like to wear!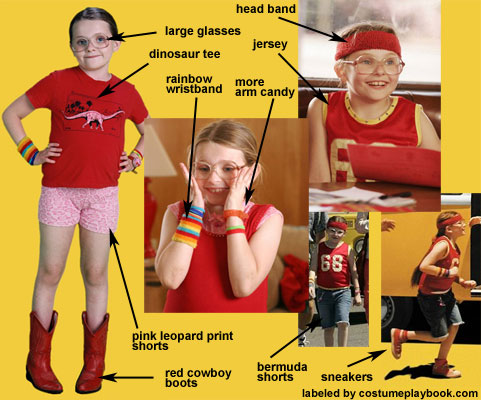 Big Eyeglasses

Olive wears a big pair of eyeglasses, one of the features that made her look different from her more Barbie doll like pageant competitors

Red Terry Cloth Headband

The Little Miss Sunshine contestant wears a sporty red headband on his forehead in one of her other outfits. She appropriately pairs it with a sleeveless jersey shirt

Red Dinosaur Graphic Tee

In one of Olive's memorable outfits, she wears a Seismosaurus t-shirt. I have yet to find the exact replica, but a dinosaur tee like this one should be a good substitute.

Leopard Print Shorts

To pair with the dinosaur tee, Olive wears a pair of pink leopard print short pants.

This one is not the exact replica but the color is delicate enough and the animal print does the trick.

Red Jersey – Sporty Tank Top

Get yourself an athletic red jersey to pair with the headband above and the knee-length shorts below. Olive's shirt has "68″ plastered on it. You can recreate this with

Athletic Number Transfers

You can use this to place the number 68 on your top. This is colored white

Denim Knee-Length Shorts

Olive pairs her jersey with a pair of knee-length pants

Rainbow Wristband

Olive has a lot of arm candy! On the right, she wears a rainbow-colored wristband

Terry Ponytailers – Hair Elastics

See those extra bracelets she sports above her rainbow wristband in the photo above? You can use some terry hair elastics to do the trick!

Buy some in red and green for her arm candy on the left

Orange Jelly Watch

On her left arm, she also wears an orange jelly watch. Very colorful, no?

Red Cowboy Boots

To add that extra oomph to her red shirt / leopard short pants outfit, she wears a pair of red cowboy boots! This one costs a little over 20 bucks – a pretty good deal!
Haven't heard of the movie? Check out the video below!