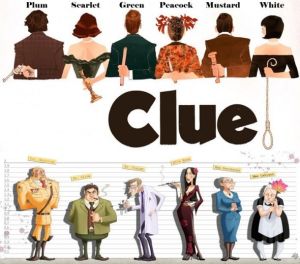 Everybody loves a good mystery, especially during Halloween! Dress up as a character from one of the most popular mystery board games and movies – Clue!
Table of Contents:
Dress up as Mrs. White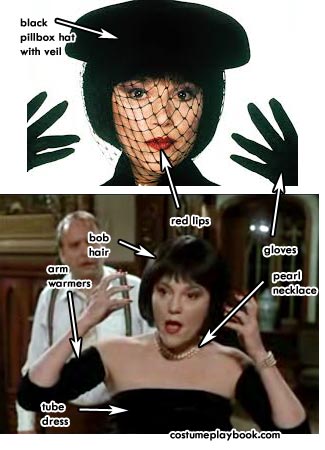 Mrs. White's character has undergone quite a lot of changes. She is portrayed as a disgruntled servant in several versions, sometimes as a youthful one, sometimes as a graying one (which would make sense as it ties up with the color white). In the very recent version, she was given a makeover and was turned into Diane White, an aspiring child actress!
I like her character in the movie the most though. There, she is a black widow, whose past husbands have mysteriously disappeared / passed away. My favorite line in the movie came from her "Flames, on the side of my face, breathing-breathl- heaving breaths…" which was actually an impromptu line
Bob Wig with Bangs

Mrs. White wears a bob with bangs that looks like the one pictured in this item! This wig received the best reviews from all the other bob wigs I found online.

Black Pillbox Hat with Black Netted Veil and Feather

In the movie, Mrs. White wears a pill box hat with a black veil covering her face as she portrays a widow

Rhode Island Novelty Pearl Necklaces

She also wears a pearl necklace in the movie. If you have one at home, feel free to use that one. Since real pearls are mucho expensive, I found these novelty ones that would work well for costume purposes

Isotoner Womens Lined Gloves (Black)

To tie in with the rest of her black ensemble, the movie version of Mrs. White wears a pair of chic black gloves

Black Arm Warmers

Inside the mansion, Mrs. white takes off her gloves and is wearing an all black ensemble consisting of a black tube dress and black arm warmers which she wears from her shoulder to her elbow.
Dress up as Miss Scarlet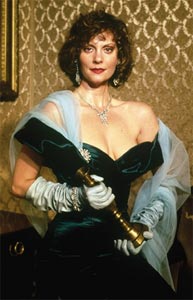 Miss Scarlet is the (fatally) attractive woman, who's cunning and dangerous. Red is the perfect color to represent her!
Red Off Shoulder Long Sleeve Fitted Dress

The character was based on the color red so naturally, a red dress would be a great choice. Red also does a great job of symbolizing a sultry femme fatale. Match this with a pair of stilettos (preferably red as well) and you're good to go! The movie versionof Miss Scarlet, on the other hand, wears an off-shoulder piece as well, but in a deep shade of green.

Extra Long Satin Gloves

In the movie, the lady wears satin gloves until below her elbow.

Candlestick

You can bring a candlestick as your prop… Then after your costume gig, give it as a housewarming gift to somebody
Dress up as Colonel Mustard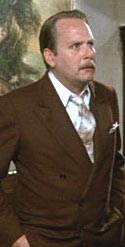 Dress up as Reverend / Mr. Green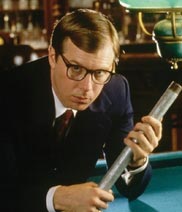 Mr. Green is a bumbling coward in the movie who is trying to hide his homosexual orientation, while in the board game, he is portrayed either as a sinful reverend, or as a businessman.
Short Hair Nerdy Wig

Mr. Green is a bit of a clumsy nerd in the movie. His hair is brown so choose the brown version of this one

Eye Glasses

To complete the cliche nerd look, he wears a pair of glasses

Emerald Green Striped Vest and Neck Tie

It's always a great idea to wear an outfit in the same color as your character. In this case, a classy emerald color is a good choice

Pre-Cut Pipe

Mr. Green's weapon in the movie is a pipe
Dress up as Mrs. Peacock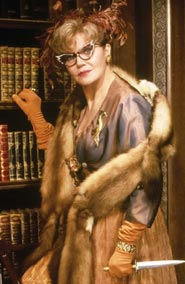 Mrs. Peacock is a socialite both in the board game and in the movie. I especially love the glasses she sports in the film!
Dress up as Professor Plum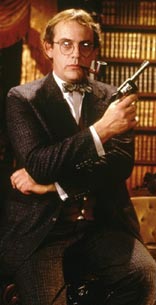 Reading Glasses

In both the movie and board game, the professor sports a pair of eyeglasses to make him look more scholarly.

Purple Bowtie

Christopher Lloyd wears a bow tie in the movie. Wear it in the shade of purple to tie in with his name!

Revolver

Plum got the luckiest pick of all the weapons – a gun! It's the only long-range weapon of the bunch too