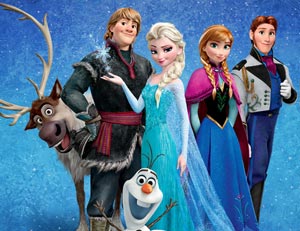 Relive Christmas any time of the year with the enchanting characters of the latest animated movie hit, Frozen! Here are costume ideas for adults.
Table of Contents:
Dress up as Anna (Kristen Bell)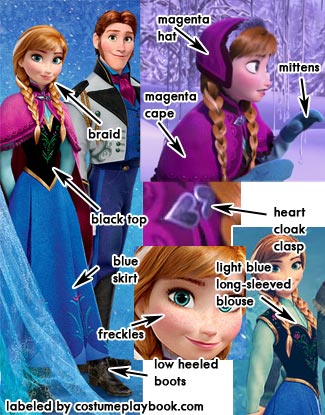 Anna is the daring little sister who's more spunk than grace. She loves her sister, Elsa dearly and doesn't spare an extra thought when she embarks on her journey to save Elsa and their kingdom from the frozen enchantment. Her costume is a very elaborate one, composed of many interesting pieces. Check them all out below. Be sure to add some freckles on your face too, which you can easily do with makeup.
Anna Frozen Wig

This is a wig based specifically on Anna's character. Frozen's popularity has skyrocketed and as a result, a lot of wigs specifically patterned after Anna and Elsa are available online. This even includes that blonde highlight detail! Reviews are very good and it conveniently comes with a wig cap




Pink Fur Trapper Hat

In several scenes, Anna wears a fur trapper hat to stay warm in the frozen outdoors.

Pink Cape

In several scenes, Anna wears a magenta cape with fur lining – a very useful accessory when you're out in the frozen outdoors most of the time! This trapper hat is not an exact replica but it does carry the idea across and has a similar style

Anna Replica Dress

A replica dress is finally available for adults and it looks pretty accurate based on the photos. Plus, everyone who has bought it seems to like it! I chose this especially because it is pretty budget-friendly. The outfit is made from polyester though (partly why they were able to make it more affordable) so the fabric is a little less breathable. It should be fine for a costume gig.

Heart Cloak Clasp

I was super happy when I saw this one because it looks like the one Anna used to clasp her cloak! It has a regal, Victorian touch to it, too.

Black Corset Top

If you want to DIY Anna's dress, you can wear a corset over a long-seleeved shirt, and then finish off with a blue maxi skirt – two wardrobe staples you can reuse!

This black top is a very basic one you could wear countless times, and it even has those wide straps like the ones on Anna's dress.

Blue Satin Skirt

This skirt has that structured look that Anna's has and should be great for future evening affairs

Light Blue Long Sleeve Shirt

Underneath her dress, she wears a light blue blouse. This long sleeve shirt is a cheaper alternative and will give a similar effect.

Black Low-heeled Boots

Anna's pair of boots in the movie is a very elaborate pair with gold details. But these low-heeled boots have a similar cut and height, and will do the trick. Wear these with a simple pair of skinny jeans on an ordinary day and you'll look fab, too!

Blue Mittens

To complete her warm winter wear, she has a pair of blue mittens. Just like Anna's, this mitten is the thick kind that covers the whole hand.

Olaf Toy

Last but definitely not the least – bring your very own cute snowman. The good thing about this toy is that it won't melt… even if you're worth melting for! You can even change the expressions in this cute little thing.
Video Tutorial on How To Braid a Wig
Dress up as Elsa (Idina Menzel)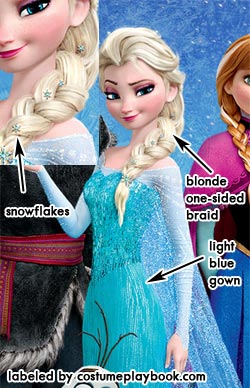 Elsa is the regal older sister who, ever since her accident with Anna years back, has lived in fear of her magical ice powers. But she finally comes to terms with them and transforms into a beautiful enchanting Snow Queen. Below is the costume guide for the Snow Queen version of Elsa.
Elsa Wig

This is a wig specifically patterned after the snow queen. It has that volume on the back like Elsa's hair did. This wig was a poetic portrayal of how she let loose and "let it go".




Snowflake Hair Accessories

My favorite detail for this ensemble! This is a set of hairpins patterned after Elsa's. It's pretty affordable – under 8 bucks for 5 small snowflake pins and 1 big snowflake pin

Snow Flake Hair Comb

Elsa had snowflakes on her hair. You can adorn your hair with these pretty snowflake clips to achieve that look. Keep these for your next formal event too

Light Blue Gown

If you have a gown on hand in a light blue shade, that should already do the trick of carrying the whole snow queen theme through. Otherwise, you can try this gown out. The rhinestones on this piece give that subtle icy touch. You can go the DIY route and use some chiffon fabric as a sort of cape to go with it, too.

Elsa Replica Dress

This is a dress patterned after Elsa's. It has that sheer overlay and the bodice is nice and sparkly. This is not a 100% match but comes pretty close
Who should be the Main Character? Elsa or Anna?
Some people argue that Elsa should have been the main character, and not our freckled heroine, Anna. Do you agree? Personally, I prefer that Elsa took a more "background" role in the film. It added to her mystery. Though I have to say Elsa's character is a very interesting one.
Let it Go
Everybody LOVES this song and it marked Elsa's enchanting transition to Snow Queen. Honestly, I am drawn more to Anna's "Do you want to build a snowman" but everyone else seems to disagree