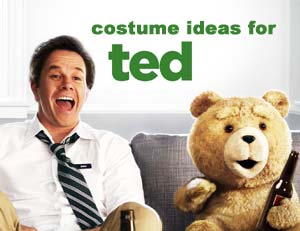 Dress up as John or his adorably but shockingly bad-mouthed teddy bear buddy, Ted!
Dress up as John (Mark Wahlberg)
John's outfit is super simple! I'm pretty sure most of the items are already in your office wardrobe. The cherry on top of your costume will be bringing along a talking Ted plush with you.
You can bring an ordinary teddy bear though, if you'd like to save a few bucks. In this case, make sure you attach a beer bottle on your bear's paws.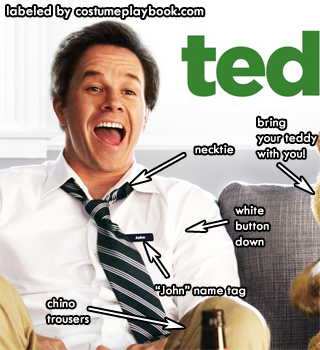 Name Tag with Custom Engraving

If you would like to be very professional about your costume, you can buy a name tag and have the word John engraved on it. The background of the tag should be black, the letters should be bold and colored white. Pin it on your favorite white button down shirt.

Black Necktie

Any necktie should do the trick, but if you can, find a black one with diagonal stripes to match John's look on the poster more closely.

Ted Talking Plush Bear

Now for the fun part – bring along your very own Ted with you! This 24 inch bear actually speaks lines from the movie. The bear has two versions – a PG one and an R one. The latter is sure to be more of a gag but do make sure you only play the bear around adults

When ordering, make sure to explicitly say which version you want to avoid any confusion. Good news – the thunder song is included in the R version of the bear.
Dress up as Ted (Seth Macfarlane)
Here's your excuse to look cute but say the most inappropriate things hehe!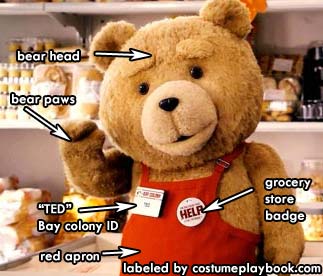 Ted Headpiece

This is a riot! Someone is actually selling a replica head of Ted, which you can wear as a hat.

Ted Look-alike Hat

This is a Ted look-alike hat. They got the thick eyebrows right although don't expect full accuracy. Nobody has reviewed it yet so I'm not quite sure how it looks like in person

Red Apron

Ted wears a red apron when he goes to work at the grocery. A friendly tip: Think before you do the Dirty Fozzie

Circle Sticker Sheet

You will need to do a bit of DIY magic on your Ted costume. Buy this circle sticker sheet then draw on it to mimic the button pin label the grocery employees have on the left side of the apron. You can also check out the label I made below!

Name Badge Holder with Clip

Another quick DIY. Print out "TED" on a sheet of paper (include the Bay Colony logo if you're feeling extra creative), attach to a badge holder like this one, then pin on the right side of the apron
Ted's Grocery Store Badge
Feel free to download and print this out. This isn't an exact replica of course, but I hope my humble photoshop creation does the trick! It's sized at around 3.3″ X 3.3″