Here's the situation. You wake up one fine morning, then realize you have a costume party to go to that night. Do you panic? Nope! Thanks to Transformers star, Shia LaBeouf, there is an easy last-minute costume idea that only involves a paper bag, bow tie, scissors, and a marker.
Dress up as Shia LaBeouf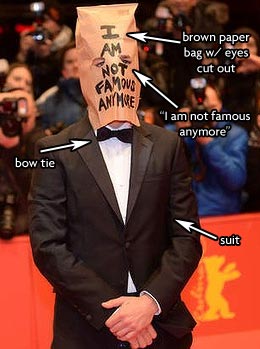 Black Bow Tie

Just like the celebrity, wear a dapper black bow tie, to (hopefully) offset the tackiness of the paper bag.

Brown Paper Bag

I'm sure you probably have one handy already, but just in case, here's one. Be sure to measure the dimensions of the bag against your head. This one measures 5 1/8 x 3 1/8 x 10 5/8 in inches. Be sure to cut out the eyes and a portion of the eyebrows out. Using a black marker, write, in bold ALL CAPS: "I AM NOT FAMOUS ANYMORE".
To all the 90s kids out there, let's all lament and miss that young and simple Even Stevens kid we used to all love
Brown Paper Bag: now an art form!
The brown paper bag mask has turned into a sort of Art form, now that it is featured in the LA performance art show. So the question is: Has Shia lost his marbles or has he just hatched a genius plan for his comeback?