These 5 cute girls show you another fun side of K-pop with this addictive video of "Bar Bar Bar", decked in colorful costumes. Lately, two little girls decided to follow the act and showed up on Ellen
Table of Contents:
Dress up in Crayon Pop's Red / White Outfits
This is the getup they usually wear. Bring your gals and dress up in uniform red and white. Be sure to do their jump dance!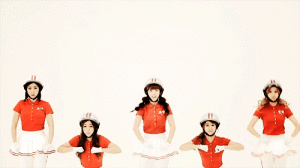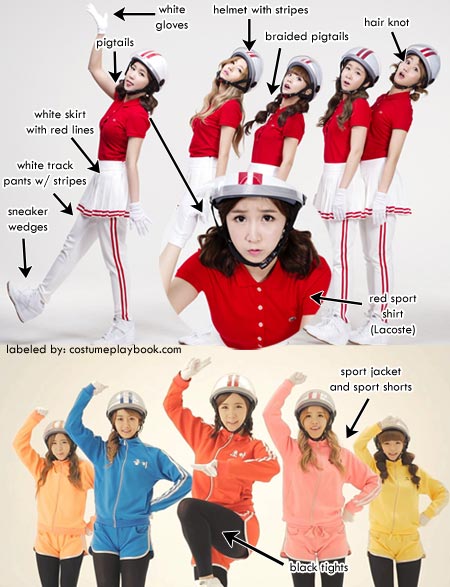 wh

White Half / Skull Helmet

All the girls wear a strapped helmet over their heads, with red striped details

Cut your Own Red Decal

Cut into strips to stick onto the helmet for that extra detail

Red Lacoste Polo

In several photos, the singers wear a red Lacoste polo shirt. Sometimes, the logo is covered and replaced by Korean characters

White Wrist Gloves

The gals wear white gloves

White Thick-Knit Jersey Skirt

I love the pleats of this skirt. You may want to buy a bigger size to accommodate the track pants below

Red Fabric Ribbons

These red ribbons can be used to attach onto the skirt

White Track Pants

These white track pants have stripes on the side like the K-pop girl group. The stripes are a lighter shade but if you want to be very thorough, you can do some DIY and attach red stripes instead

White Sneaker Wedges

These white sneaker wedges add a chic edge to their sporty outfit
Crayon Pop's Colorful Costumes
Half Helmet

Always the first and most essential part of your costume – the helmet

Active Sweater Jackets in Various Colors

Bring your gals and show up in a burst of beautiful colors to your Halloween costume party! This item comes in all the colors you need for your group – yellow, orange, pink, red, and blue

Mesh Sport Shorts

Comes in a beautiful array of colors like red, blue, and orange.

Black Tights

Wear black tights underneath your shorts

White Wrist Gloves

The gals wear white gloves

Nike Sneaker Wedges

As shown in the photo, the girls seem to be sporting Nike sneaker wedges
Dress up as Zony and Yony from Ellen Show
Zony and Yony brought the Crayon Pop song to another viral level when they showed off their adorable tandem dance to Ellen de Generes. Last May, 2014, they were featured in an episode of The Ellen show sporting a cute pink helmet, denim jacket, pink tutu, and colorful tights ensemble! If you want to dress up as the two, then check out the guide below. (Also a good tandem costume idea for best friends and sisters)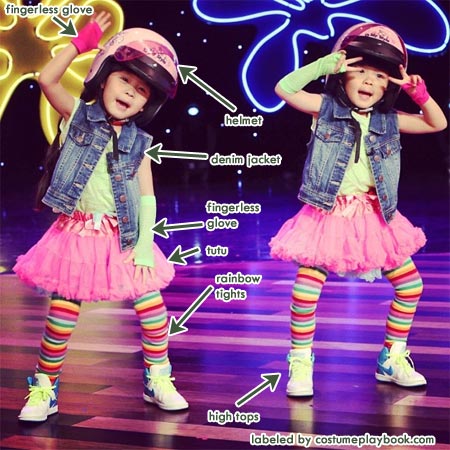 Pink Helmet

Instead of multicolored helmets, both Zony and Yony wear pink helmets. This pink piece is adult-sized

Pink Fingerless Gloves

They definitely love pink! They even sport a pink fingerless glove on one hand. On the other, they wear a longer light green fingerless glove

Light Green Fingerless Arm Warmers

Wear this one on the other hand

Sleeveless Denim Jacket

You can use this to match a whole lot of other everyday outfits

Pink Tutu for Adults

What could be more adorable than a tutu right?? You may want to wear a tight pair of shorts underneath for comfort

Rainbow Thigh-High Socks for Adults

And now for an explosion of colors via this pair of super colorful rainbow tights or thigh-high socks! You're all set. Now all you need to do is memorize the dance steps