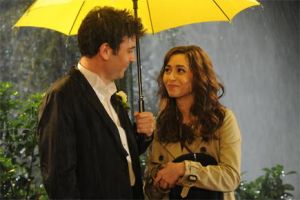 Die-hard Ted / Robin shippers beware! This is an easy couple costume idea from the hit comedy TV show, How I Met your Mother – for Ted Mosby and Tracy McConnell (the mother). Their outfits were based on the epic rain scene where they finally meet and instantly connect under the yellow umbrella. It has to be one of the cutest "boy meets girl" scenes.
Table of Contents:
Dress up as Tracy McConnell (Mosby) aka the Mother
We finally get to meet the mother after all these seasons and she looks absolutely fashionable with her trench coat and the yellow umbrella. Check out the costume guide below.
Hairstyle: consider getting some light curls on your hair for added accuracy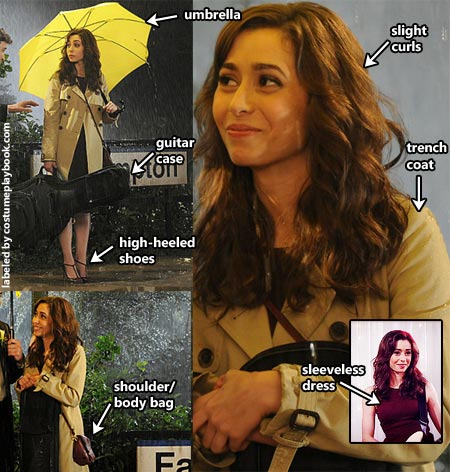 Yellow Umbrella

How could we ever forget the significance of this yellow umbrella? It is as unforgettable as the blue french horn! This is a MUST bring prop if you decide to dress up as Tracy. Extra detail: place the initials "TM" on the umbrella

Light Brown Trench Coat

Wear a double-breasted trench coat over a plain sleeveless dress. Take out the belt and keep the trench coat unbuttoned. Tracy's dress was a nice plum-colored number. You don't really have to be too strict with the inner dress as it will be mostly blocked by the coat anyway

Bass Guitar Case

Another very important prop. Tracy was the bassist and vocalist of the band that played during Barney and Robin's wedding, and was lugging around this guitar case with her as she waited for the train.

Small Crossbody / Shoulder Bag

She wears a nice small bag which she wears as a crossbody bag

T-Strap Heels

She wears a pair of black heels with a T-strap, to be exact
Dress up as Ted Mosby
Guys will LOVE this costume idea because it's crazy easy! All you need is to wear a black suit (I'm sure most of you have one lying around from promo or a recent wedding you attended), an undone bow tie, and a boutonnière. You can also bring a book with you, the way he was reading one at the train station.
Extra idea: wet your hair and clothes a bit to appear like you went under the rain before Tracy saved you with her umbrella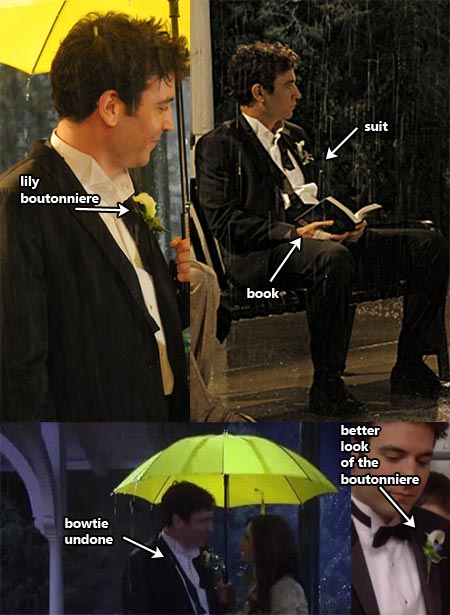 Lily Boutonniere

The groom and the groomsmen at Barney and Robin's wedding sported a lily flower boutonniere like this one. This is a silk artificial flower so you never have to worry about it wilting!

Self-Tie Bow Tie

All you need is a black bow-tie, the self-tie kind so that you can just keep it undone and hang around your neck, like you just had a rough night