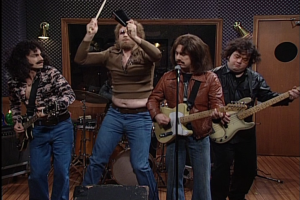 We need more Cowbell! Dress up as Bruce Dickinson (Christopher Walken) and Gene Frenkle (Will Ferrell) in one of the most beloved SNL skits of all time.
Table of Contents:
Dress up as Bruce Dickinson (Christopher Walken)
Bruce got a fever! And the only prescription is more cowbell! Bruce is just like any guy who puts his pants on one leg at a time. With a small exception – once he puts his pants on, he makes gold records. To dress up as Christopher Walken's Bruce Dickinson, all you need is a slicked back hairdo, a few digs, and that awesome conviction!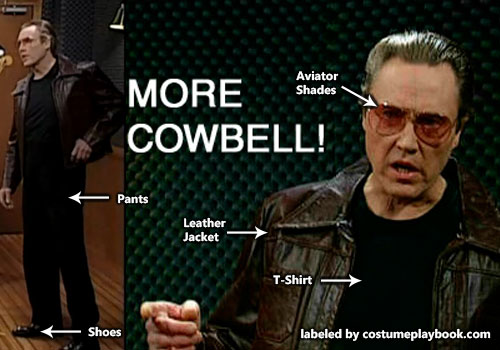 Tinted Aviator Sunglasses

Wear a pair of sunglasses in a nice brownish tint.

Dark Brown Leather Jacket

Get an awesome vintage-looking leather jacket like this one. This piece has those line details just like Christopher Walken's did!

Basic Black Crewneck Top

Wear a basic black top underneath the jacket.

Black Loafers

For the shoes, I'd go for a classic pair of black slip-on loafers

Dry Erase Speech Bubble Prop

Now for an extra fun touch: bring a speech bubble along with you that says "I NEED MORE COWBELL!" I saw this neat photo booth prop that features a dry erase speech bubble on a stick. Simply use a marker to write the text, then bring the stick along with you and you're sure to be a hilarious hit!
Dress up as Gene Frenkle (Will Ferrell)
Blue Oyster Cult's best asset, according to Bruce Dickinson, happens to be the cowbell player (cowbell-ist?) Bring your cowbell and dress up as this fun character! Optional but will definitely be a riot: show off your midriff just like he does when he starts going crazy with his musical instrument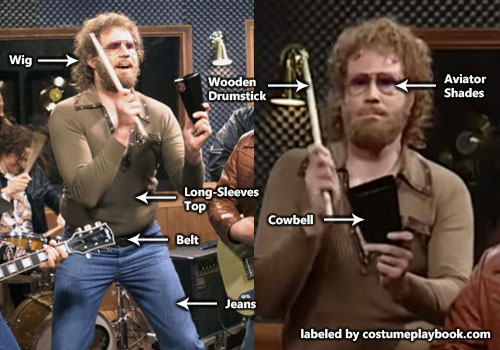 Show off his belly: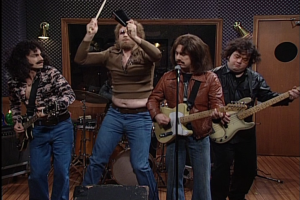 A look at his belt: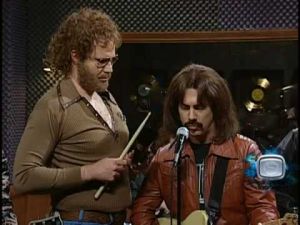 Tinted Aviator Sunglasses

Just like hotshot Bruce, Gene wears a pair of tinted sunglasses.

Brown Curly Wig

Gene's hair isn't as curly and poofy as this one but it's pretty close. Trim this down a bit to better mimic his hairdo

Cowbell

Now for the dynamic sound – the cowbell! I found this neat black cowbell with the words "More Cowbell" plastered on it, that will definitely add an extra touch"

Wooden Drumstick

Bring along one drumstick with you to bang your cowbell with as much panache as you can

Long Sleeve Henley Shirt

Go for a slim-fit long-sleeve Henley shirt and keep it unbuttoned. I love how this has a very similar piping detail on the collar / button area! Pair this with simple blue jeans

For added effect: buy a shirt one size too small so it looks extremely tight on you, then bring up the shirt so it exposes your tummy. THEN, (if you don't have any natural chest hair) use some light brown marker to draw some chest hair.

Brown Cowboy Belt

Wear a brown leather belt with embossed details

Brown Beard and Mustache

Now for the facial hair: get yourself a fake beard and mustache
Trivia: this skit is so iconic that it was referenced again in a recent Jimmy Fallon Tonight Show skit, featuring Will Ferrell and Red Hot Chili Peppers' Chad Smith. The drum-off ended with Will Ferrell getting hold of a cowbell and the Red Hot band playing the same Blue Oyster Cult tune "(Don't Fear) The Reaper" played in the SNL skit. Check out the video here: