The best Tonight Show skits always involve BFFs Jimmy Fallon and Justin Timberlake, and this particular skit is probably my favorite! Come down to Camp Winnipesaukee and sign 90s music with them! Beware of Mr. Fletcher!
Table of Contents:
The Camp Winnipesaukee Attire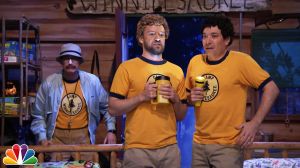 Both Jimmy Fallon and Justin Timberlake wear the same camp outfit
The shoes and socks of Jimmy are only shown very quickly and I will assume Justin has the same look: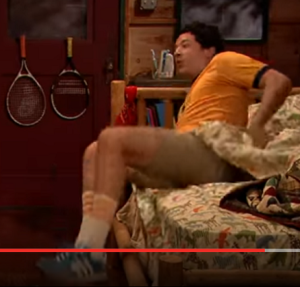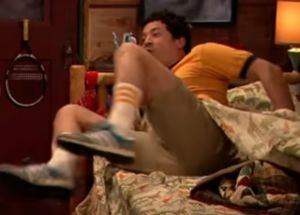 Camp Winnipesaukee T-shirt

The most important piece – a Camp Winnipesaukee T-shirt in yellow! I'd totally wear this on a normal basis and wait till someone comes up and mentions the Tonight Show sketch

Khaki Walking Shorts

A pair of simple khaki short pants is the official Camp attire

Long White Socks with Three Red/Orange/Yellow Stripes

They only show it a split second in the skit but they are wearing long white socks with three stripes. The color is somewhere between red and yellow.

Blue Sneakers

Finish off with a pair of blue sneakers. Any brand should so but it seems like the one on the video is an Adidas because of the three striped details on the shoes
Dress up as Jimmy Fallon
Black Curly Hair Wig

The BFFs are both sporting short, curly hair. Jimmy's hair is black

Fake Braces

Let's just relive the nightmare of having braces just for one costume event!

Yellow Flashlight

Every camper must have a flashlight with them at all times. As a bonus it can cast a spotlight on Mr. Fletcher's ummm you know. Jimmy Fallon's flashlight is an ordinary tube kind
Dress up as Justin Timberlake
Dress up as Mr. Fletcher
Mr. Fletcher is quite the character!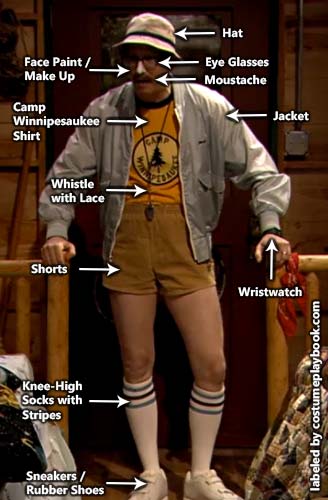 Fisherman's Hat

He seems to be afraid of sunburn – he sports a fisherman's hat and then has way too much sun block on his nose (at least I think that's sun block).

Glasses

He sports a pair of rimmed eyeglasses

White Makeup

His nose is extremely white – I'm guessing that's a load of sun block. You can just get some and slather it on thick on your nose. Or if you want to make it look more exaggerated, you can get some white clown makeup

Mustache

Don't forget his very old-school looking mustache

Camp Winnipesaukee T-shirt

He wears the same camp t-shirt

Lightweight Jacket

He pairs the t-shirt with a light-colored jacket. I'm not quite sure of the material but it looks like it's made from some lightweight material

Hiking Shorts

He wears a pair of short pants too but his is extremely short and tight. I found this pair of cargo hiking shorts that has a very camp look to it. Thought Mr. Fletcher's pants are actually very plain, you might want to try these. Consider wearing it high-waist so that the shorts are even shorter and tighter

Three Striped Socks

The camp leader wears the socks until right below the knee – very retro look. Pair with white sneakers or rubber shoes

Whistle Necklace

A fun extra prop is the whistle he wears over his neck
I ONLY WANNA BE WITH YOUUUUUUUU!