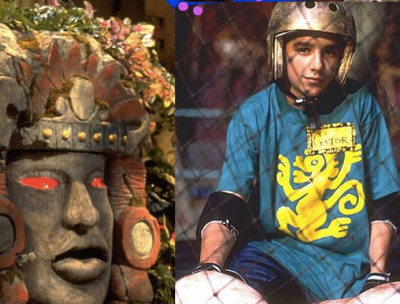 As a certified Nickelodeon fan, I remember fondly watching this game show and wishing I'd someday be on it. I know this will never happen but at least I can look like the contestants through this costume guide
Table of Contents:
Dress up as Legends of the Hidden Temple Contestant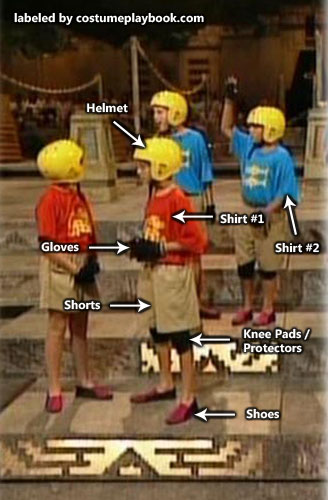 Gold Helmet

Safety first, fashion next! They wear a fashionably gold safety helmet during the game

Hidden Temple Shirt

I squealed when I saw this. I mean seriously – they have ALL the team icons available, how cool is that!!!

Yellow Name Tag Sticker

This is optional but I do recommend it because it just adds a fun extra kick to your costume, at very minimal cost. You can draw a border around it to give it an aztec look

Black Fingerless Gloves

They sport a pair of fingerless gloves

Upper Arm Sleeve

You will notice a tight black compression shirt underneath their Temple shirt. This is optional, but if you'd like this, you can either wear a black inner shirt or just sport an upper arm compression sleeve like this one

Safari Shorts Women

For the women – here is a pair of khaki shorts

Safari Shorts Men

For the men – a pair of khaki shorts

Knee Pads

Again, for safety

Flat Kung Fu Shoes

They wear a pair of very lightweight flat shoes, and I found this pair of shoes typically used for kung fu, etc. which would look the part

Aztec Paperweight

As an additional prop, you can buy this aztec-design paperweight to mimic the pendant
Dress up as Kirk Fogg – Host
Wouldn't it be fun if someone dressed up as a host in a sea of people who dress up as the contestants?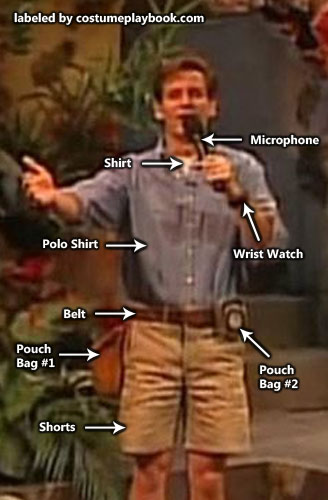 Light Denim Shirt

Wear a rugged light denim shirt and a white round neck shirt peeking underneath

Satchel Bag with Clip

Hook the satchel bag onto the right side of the belt buckle

Satchel Pouch

He also sports a pouch on the opposite side. It looks like a tin-like case with LEGENDS on it. There is no exact replica so you can just hook on a small phone pouch or skip this altogether

Safari Shorts Men

Wear a pair of safari shorts