Table of Contents: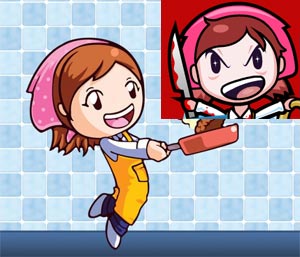 Dress up like the video game mommy and somebody might compliment you and say: "Wonderful! Better zan Mama!" Or… turn her into horror murdering mama for some laughs (and cringes)!
Dress up as Cooking Mama Official Version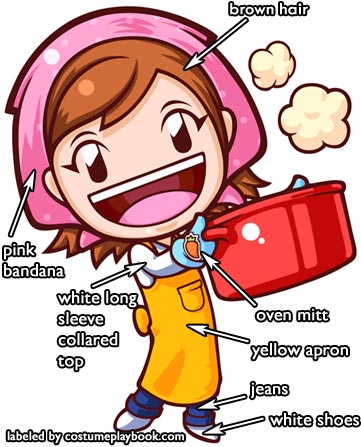 The Cooking Mama video game became an instant colossal hit when it was first released in 2006. Being a part of IGN's elite "Best of E3″, everyone became addicted to the adorable Mama and all the swipes and hand movements involved in cooking. Till this day, she is still an iconic video game character, so everyone's going to have a blast seeing you donning her outfit. The best part? It's a cinch to dress up like her!
Pink Bandana

Cooking mama sports a pink bandana to keep her hair fashionably in place while she's cooking.

Short Straight Brown Hair – Wig

You can actually skip this part, but if you'd like a more accurate look, get a nice brown short wig. The ends of her hair aren't neatly tucked inside, they actually stick out a bit at the back, so you can comb the wig to achieve that effect

Adjustable Apron

A nice golden yellow apron makes you stand out like mama!

White Long Sleeve Oxford Shirt

Mama wears a basic white long sleeve button down shirt, with the sleeves folded to stay neat in the kitchen

Pair of Blue Oven Mitts

In some posters, Mama wears a nice pair of oven mitts. You can skip this one, and choose another cooking material, like a ladle, frying pan, etc.
Dress up as Mama PETA Horror Version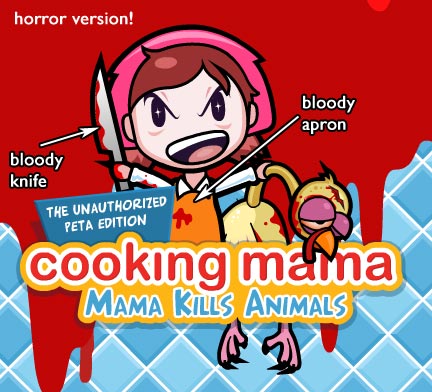 Have you guys seen the PETA unofficial version of Cooking Mama? It shows a more gruesome, violent mama taking off the internal organs of a turkey, chopping off its head, etc. She berates you for being "too nice!" or praises you for being "Meaner than Mama!" In any case, it makes for a comedic horror costume. Just dress up as the original cooking mama would above, then add some fake blood, bring a bloody knife, look all mean, and bring a headless chicken. Perfect, no?
Bloody Apron

A bloody apron instantly gets you into murderous Cooking Mama mode. The other option is to buy a yellow apron and smear it with fake blood

Yellow Apron

Smear this with some fake blood below

Bottle of Fake Blood

Place on your apron, hands, and face for a gruesome costume. According to some reviews, the blood actually washes out fine too!

Bloody Knife

Cooking Mama gone bad needs a bloody knife of course, and nothing could be better than a big cleaver!

Rubber Chicken

Get yourself an inexpensive rubber chicken like this one, cut off the head, smear with blood. Voila! Cringes from your friends… or maybe laughter, depending on the crowd