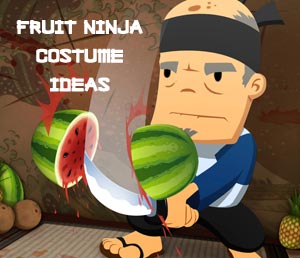 Dress up as the sword slinging, fruit slicing master – the fruit ninja! Be sure to bring a fruit prop with you.
Dress up as Fruit Ninja
To dress up as the main character of the game, all you need are a few key ninja pieces, and some additional props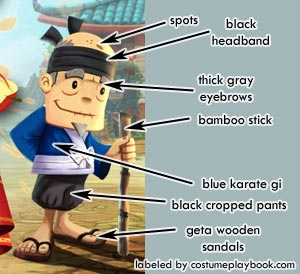 Bald Cap

The Fruit Ninja is already balding except for some hair on both sides. For added effect, add some spots on the bald head with a brown marker.

Grey Eyebrows and Mustache Set

The ninja master has a pair of thick gray eyebrows like this one, and a small gray goatee (or is that a soul patch?) You can use the mustache and cut it up into a small triangle shape

Black Martial Arts Headband

Wear this around your forehead to instantly look fierce!

Blue Karate Uniform

This set comes with the top and the bottom. Fruit Ninja's pants are actually black so you can substitute that with a pair of black jogging pants, if you want to be 100% accurate.

White Karate Belt

If you notice the photo above, the fruit ninja's jacket actually has a white trim to it. You can improvise and use a white karate belt to stitch onto the jacket or to at least tie onto your waist. I do believe though that even without the trim, your whole outfit should already look really good!

Bamboo Walking Stick

For added effect, bring along a walking stick with you! There is actually a bamboo sword being sold on Amazon, though it has a real blade and I doubt you would be comfortable bringing along a sharp object to a costume party.

Ninja Sword

You can also bring a ninja sword with you, if you want to look tougher. Fruits, beware!

Traditional Wooden Sandals

A pair of wooden sandals (geta) complete the traditional Japanese ninja getup

Fruit Ninja Sliced Watermelon Plush

The icing on your costume? Bring a fruit ninja watermelon plush toy with you! So cute, right? And it's sliced in the middle, too!

Fruit Basket Plush

OR, you can even bring a basket full of fake fruits haha! If you're going to a potluck party, you can also bring a real basket of fruits and volunteer to slice them up for the guests.