The Adventures of Tintin
Dress up as Captain Haddock
Captain Haddock is Tintin's best friend. A sailor through and through, his outfit revolves around nautical elements. The important pieces of this costume is the captain's hat, the shirt with the anchor print, and the pipe. You can also wear a coat jacket over the getup like he usually does, and bring a bottle of alcoholic drink – rum or whiskey are his favorite poisons. Finally, make sure you bring along a hot-headed temper and a Haddock trademark insult or two to the party for a more authentic portrayal – Billions of blue blistering boiled and barbecued barnacles! Dunderheaded coconuts!
Best friends: dress up as Tintin and Haddock
Captain's Hat

This is one of the best hats out there – it's got great reviews and is pretty affordable too!

Beard and Mustache

Now for his facial hair – a beard (with sideburns) and mustache. You may use a black eyeliner pencil to sketch on your face or you can get yourself a fake beard set like this one. Reviews are mixed but the general consensus is that it's cheap and works for the most part. You would need to trim this up considerably as Haddock's beard isn't as bushy.

Smoking Pipe

Every gentleman must have a smoking pipe! This one is a very budget-friendly piece, which is perfect for a prop. However, if you're looking for somethign to actually smoke with, then feel free to get a higher-quality one.

Anchor Graphic Tee

His shirt is a distinct top that features an anchor print. An exact replica isn't available yet (ahem, tee-shirt manufacturers – any takers?) but I did find this good alternative. I like that the print is a simple, cartoonic version of the anchor, which matches Captain Haddock's.

Captain Anchor Graphic Tee

Option 2 features the word "Captain" plastered on the top – which might actually be a fun addition to your overall costume. I like that the size of the anchor symbol on this one closely resembles the one of Captain Haddock's. Also, the color of the shirt is a bright shade of blue.

Black Coat

Now, wear a black coat over the shirt. I'd go for a clean-cut, practical one like this one – very gentlemanly. Coincidentally, this Kenneth Cole jacket is on sale.

PROP BONUS: Consider placing a bottle of rum or whiskey on your pocket. Let it peak out from your coat pocket, for a nod to Haddock's penchant for those drinks.
Other Characters from Adventures of Tintin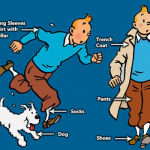 Tintin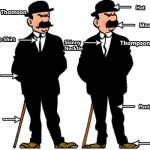 Thomson and Thompson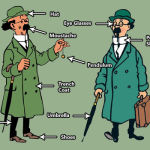 Professor Calculus