Jumanji 2 Movie (2017)
Dress up as Ruby Roundhouse (Karen Gillan)
Dress up as Karen Gillan's Ruby Roundhouse and prove to everyone that dance fighting really exists! This Lara Croft inspired number is sure to be a hit at your costume gig.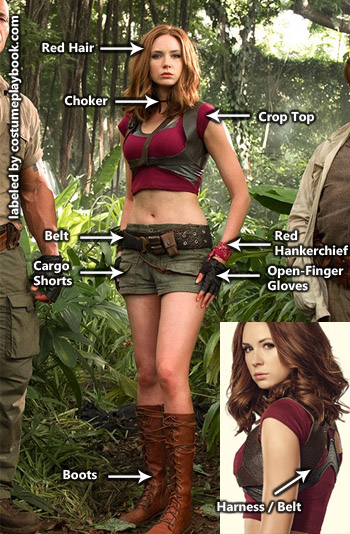 Red-Orange Hair

First thing you need to do is become a redhead and don a wig in an orange tint. Her hair has some waves on it which you can just create by braiding the hair, hair drying it a bit, then unraveling the braid. This cosplay guide is super useful: http://www.cosplay.com/showthread.php?t=199541

Choker

Wear a thin, plain choker around your neck

Red Scoop Neck Crop Top

Wear a red crop top, preferably one with a deep red scoop neck.

Harness

The harness was the hardest thing to find. As expected, there is no exact replica online that is ready-made so you can either make your own, or improvise with this one. I chose this one because of its thick, rugged straps and its nice shade.

Underbust Corset

Here's another option, which was intended to be more of a corset.

Red Paisley Handkerchief

Get your basic red handkerchief and tie around your left wrist as a faux bracelet.

Fingerless Gloves

Just like Dr. Bravestone, she sports a pair of fingerless gloves

Black Body Paint

My favorite detail is the life bar. It's very simple but it will really carry the Jumanji feel across. You can use any body paint to draw the bars.
Other Characters of Jumanji 2 (2017)