Lupin III Live Action Movie
Dress up as Arsene Lupin III (Oguri Shun)
Always happy to see Oguri Shun play different roles! Here's his latest role as the famous anime / manga character, Lupin – the world's numero uno thief!
Hair: short; slightly spiky hair
Additional accessories: a wrist watch on his right wrist
Couples can dress up as Lupin and Fujiko Mine
Best friends can dress up as Lupin and Daisuke Jigen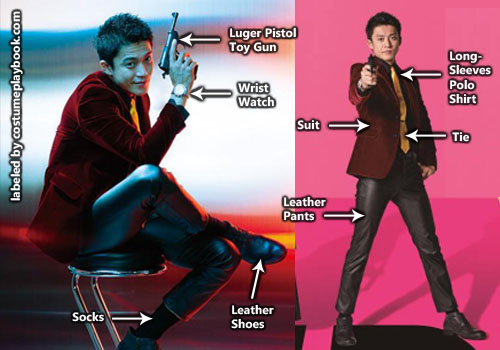 Velvet Burgundy Blazer

Lupin wears a blazer in a nice shade of deep red. It seems as if the blazer worn in the movie is made from velvet, just like this one! Underneath, wear a dark gray button down oxford shirt that you probably have lying around in your wardrobe already.

Tommy Hilfiger Velvet Blazer

Here's one from Tommy Hilfiger. As expected, there is a higher premium for a branded item. Wear a dark gray button down oxford shirt underneath.

Golden Yellow Neck Tie

A slim gold-yellow neck tie adds a very bright contrast to the dark red blazer.

Leather Pants

Lupin seems to love texture as he wears a pair of glossy leather pants. These faux leather pants should do the trick – it has a nice slim (but not too skinny) fit, and is very affordable, too! If you're not comfortable with leather pants (think Ross from Friends, haha), then you can wear a pair of black pants instead. Match with a slim black belt, black socks, and a nice pair of shoes.

Luger Air Pistol

Lupin's weapon of choice is a Luger pistol like this one.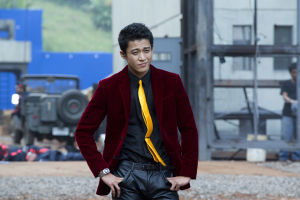 Table of Contents: Characters
Click on the characters below to view their costume guides: