Lupin III Live Action Movie
Dress up as Fujiko Mine (Meisa Kuroki)
Dress up as the femme fatale of Lupin III and make heads turn in her slinky number!
Couples: dress up as Lupin and Fujiko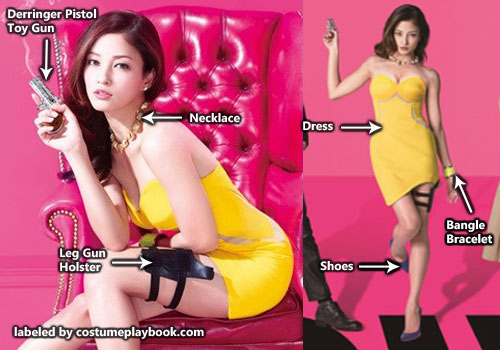 Yellow Strapless Bodycon Dress

Fujiko wears a body-hugging yellow strapless dress like this one. Reviews for this dress have been positive. Pair with pointed stilettos.

Thigh / Leg Gun Holster

Get yourself a holster and tie around your left thigh. This holster is intended for smaller guns just like her derringer pistol. Actually, this holster will more or less be just for the look of it, because I'm pretty sure you'll be carrying the gun around (and posing with it) more often than you will be keeping it in the holster

Derringer Pistol

This piece is very elaborate (even more elaborate than the one Fujiko carries) but I think it would make your overall getup look even cooler!

Thick Bangle

Wear a thick gold bangle on your left wrist

Necklace

Her necklace consists of multiple squares, just like this one!
Table of Contents: Characters
Click on the characters below to view their costume guides: