Dress up as The Blue Raja (Hank Azaria)
Beware the fork-slinging mama's boy. He'll attack you with silverware… or charm you with his faux accent
VERY IMPORTANT: bring a couple of forks – The Raja's choice of weapons! May the forks be with you, Blue Raja!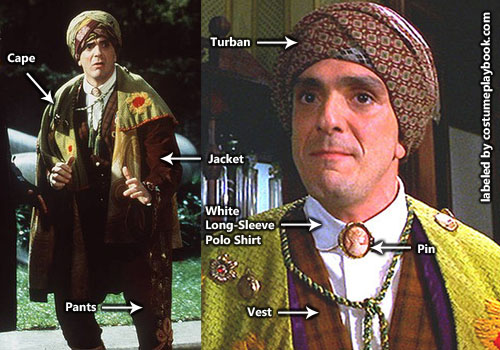 Flashy Turban

The Blue Raja wears a couple of different turbans during the show, most of which are very colorful. During the last battle, he wears his flashiest one, and this bright gold piece can be a good choice. Take note that this seems to be molded plastic already to save you the trouble of tying your own turban

Gold and Blue Turban

This is another nice choice

Victorian Style Cameo Brooch

He pins a Victorian-era Cameo brooch on his white Oxford shirt, which gives you the instant impression that his mother dressed him up. I chose this brooch because it is one of the few out there that don't have any rhinestones and other extra girly details on its border

Antique Bronze Flower Brooch

He wears several other pins from his mother's jewelry collection including an antique bronze flower pin. This is optional but a fun extra detail

Batwing Cape

He wears a cape. Not just any cape. A cape with floral patches on it! We're talking red/yellow daisies here, people! The flow of the cape is probably another ode to the Victorian era, the print is probably from his mother's upholstery. There is no floral cape readily available online (as expected), but you can buy this plain black piece then stitch floral embroidered patches on them. I suggest stitching very loosely so you can easily take them off and use the cape for other characters in the future – Zorro or the Phantom of the Opera perhaps?

Yellow / Red Daisy Embroidered Patch

This is 2 X 2 inches. You can also buy the other sizes so you can place assorted pieces all over the cape

Brown Loose Bohemian Shirt

Underneath the cape, I would wear something like this – a long-sleeved Bohemian shirt with a nice V-neck cut and long sleeves. The V-neck cut will make your cameo brooch more visible and show a bit of your white Oxford shirt. This shirt has some subtle embroidered details to add more effect

Green Floral Patchwork Quilt

Here's another option: Simply drape this around yourself like a faux cape. The design of the print matches his cape! This is an amateur alternative but hey, it would be perfect for an amateur superhero right? To keep the faux cape in place, you may want to pin the two ends together with a basic safety pin.

For the pants, wear a basic pair of brown pants. Blue Raja's pants are actually pretty festive as well but I think you can get away with a plain pair of pants as long as you get all the other accessories on the top right.
Table of Contents
Other characters from Mystery Men: