Mystery Men Movie
Dress up as Mr. Furious (Ben Stiller)
Watch out for the ticking time bomb of fury! He's so angry with the world so he wears all-black!
Hair: Gel up your hair in small spikes – as though your hair's angry too.
Makeup: Use some black eyeliner.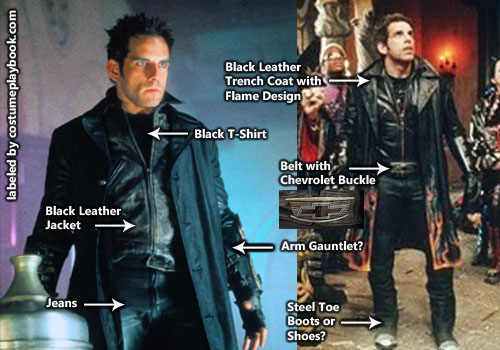 Fingerless Gloves

The ticking bomb of fury likes to dress all black to fit the whole angry, bad-ass stereotype! He wears a pair of fingerless gauntlets. You can either pair an armband (see below) with this pair of fingerless gloves or you can just go for one piece

Gauntlet Wristband with Straps

I like this wristband because it has a lot of straps details that add to the biker boy effect

Studded Fingerless Gauntlet

If you want to be more punk about it, then this studded gauntlet is a good choice

Long Leather Trenchcoat

This long trenchcoat will allow you to intimidate people at a budget-friendly price

Long Cotton Trenchcoat

You may also opt for a cotton one to be able to sew flame details at the bottom

Flame Embroidered Badge

Sew this on your trenchcoat for added effect

Leather Jacket

Underneath his coat, Mr. Furious wears a leather jacket. Underneath the leather jacket, wear a basic black tee. No wonder he's so hot-headed! He's bundled up in so many layers of clothing!

Chevrolet Belt Buckle

He sports a Chevrolet belt buckle. Couldn't find the exact replica but any buckle with a Chevrolet logo should do the trick

Combat Boots

A pair of boots seals the furious action hero deal!
Table of Contents
Other characters from Mystery Men: