Napoleon Dynamite Costumes
Dress up as Deb Bradshaw (Tina Majorino)
Deb is a shy girl who seems to love the color pink! Get your significant other to dress up as Napoleon and be the cutest couple ever! Trivia: Deb is played by Tina Majorino, who you probably recognize as Mac from Veronica Mars! (sorry, I always feel compelled to mention Veronica Mars as often as I can)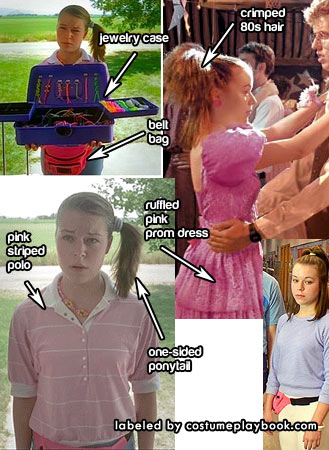 Pink Polo Top with White Stripes

This looks exactly like the one Deb wears in the movie. Pair with a one-sided ponytail.

Fabric Waist Pack Many Colors! Pink

This is one of the most distinct pieces on her costume: the belt bag / fanny pack!

Jewelry Organizer / Art Box with Trays

For a funny touch – bring an organizer / case like this one, load up with some jewelry-making laces (see below), and sell your items to the other guests at the costume event (explain to them you need the money to get to college!)

Jewelry Strings / Cords

Based on the photo, it seems that Deb was making key chains out of these colorful cords.

Crimped Brown Wig

Want to re-enact the prom scene? Crimp your hair to get that 80s look going! Tie your hair into a high ponytail.

Pink Ruffled Prom Dress

Deb's prom dress is very 80s and full of ruffles. You want to look for something as gaudy as this one to get the exaggerated look.
Other Characters from Napoleon Dynamite