Napoleon Dynamite Costumes
Dress up as Kip Dynamite
There are two getups you can wear as Kip Dynamite:
1) the pre-Lafawnduh meeting where he basically has that nerd look going on, and holds that cardboard sign up.
2) the post-Lafawnduh makeover where he's acquires a hip hop swagger
Both getups are guaranteed to elicit laughs from everyone
Couples: dress up as Lafawnduh and Kip!
Siblings: dress up as Napoleon and Kip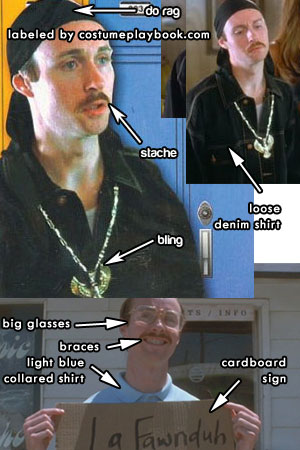 A closer look at his huge necklace:

Squarish Framed Safety Glasses

For the pre-Lafawnduh costume, sport a pair of large-framed eye glasses. Like his brother Napoleon's, his glasses has that extra bridge detail as well but his frame is clear plastic.

Light Blue Polo

Next, wear a simple polo in a baby blue shade. Button it up.

Khaki Short Pants

He sports a pair of short pants in a khaki shade. Wear a brown belt.

Brown Ribbed Socks

Keep the brown palette going with ribbed socks

Black Loafers

Finish off with a pair of casual black loafers

Cardboard

Now for the extra fun part, get yourself an ordinary piece of cardboard and write "Lafawnduh" on it to mimic the bus stop scene.

Mustache

Kip also sports a mustache, similar in shape to Pedro's.

Black Du-Rag

To do Kip's hip hop look, get yourself a black du-rag. This even has a Built-in Wave Activator haha!

Black Denim Shirt

Get a black denim shirt one or two sizes bigger than usual to give that baggy look.

Large Eagle Necklace

I was so happy when I saw this! It took me ages scouring through the jewelry section to finally find one that really fits the bill. This is huge – just what we want Kip to wear to make his grand statement!
Other Characters from Napoleon Dynamite