Napoleon Dynamite Costumes
Dress up as LaFawnduh (Shondrella Avery)
Dress up as Lafawnduh and get your significant other to dress up as Kip for a guaranteed funny couple costume! You'll be the hottest couple there, guaranteed! She wears several different outfits in the movie (I show several in the photo above). The basic idea is to wear a tight-fitting sleeveless top, a tight-fitting pair of pants (either capri pants or skinny jeans), and a lot of bling! You should also consider painting your nails a nice light brown hue. With some makeup skills, you may also want to make sure you have the same thick, luscious lips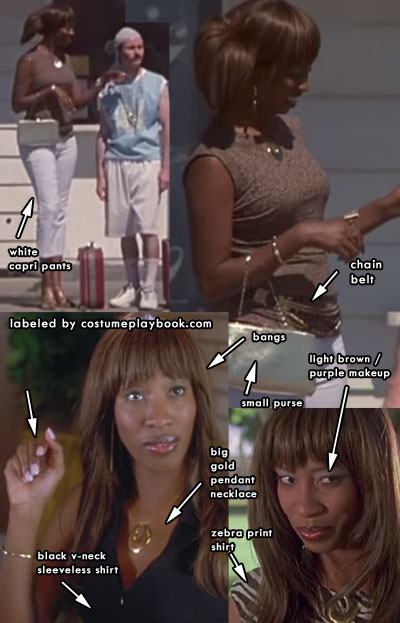 Dating tip: If you chat online with a girl for like two hours every day, then things are gettin' pretty serious.
Brown Wig with Bangs

Lafawnduh has long brown hair with bangs. If you notice, her bangs aren't evenly cut, so if you want that extra touch – you can just use a simple pair of scissors and shorten a few of the strands.

Big Gold Pendant Necklace

Lafawnduh has TONS of jewelries. One of the most distinct one is the necklace she wears which features a moon / circle pendant of sorts. The important thing is for you to wear a big pendant necklace that rests just below the collarbone. Ideally something you'd actually wear after the costume event

My choice? This leaf pendant – it's huge enough at 2 inches, but at the same time it's pretty enough to be worn over any other outfit.

Gold arm bracelet

Another accessory she wears is a simple gold bracelet on her right arm

Black V-Neck Sleeveless Top

During the scene when Kip wears his infamous du-rag, Lafawnduh looked smoking in a black v-neck top just like this one!

Gold Chain Belt

Lafawnduh also has some serious bling on her belt in the form of multiple gold chains.
Other Characters from Napoleon Dynamite