Napoleon Dynamite Costumes
Dress up as Pedro Sanchez (Efren Ramirez)
Why should you vote for Pedro? Aside from his kick-a$$ bike, the guy promises to provide you with protection via his gang of cousins. That and his awesome mustache and hairdo. Need I say more? Pedro is played by Efren Ramirez, who successfully turned Pedro into an iconic character with an equally memorable deadpan personality that will be remembered for years to come.
Pedro's costume is largely influenced by cowboys.
Best friends: dress up as Napoleon and Pedro!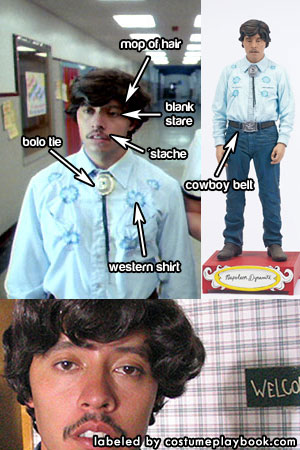 70s Wig

Pedro's hair is very thick and unkempt. This 70s wig has that volume you will need, but you will have to work it out a bit to make it curlier. You can skip the wig and just style your own hair too with some curlers and a bit of hair spray. The hair spray will make the hair look dry and coarse, which will be perfect.

Bolo Tie

Pedro sports a bolo tie underneath his cowboy shirt. I chose this particular design because it has garnered the most reviews and because I kinda think the "American Pride" slogan is a fun touch!

Light Blue Cowboy Shirt

Sticking with the cowboy look, he dons an embroidered shirt in a light shade of blue. This shirt I found mimics the same shade even though the pattern is different.

Mustache

His stache is the most important part of his getup! He has a very basic downward mustache. You can also improvise with black liner.

Big Buckle Belt

Wear a big buckle belt. This one is from Levi's

Flat Cowboy-style boots

A pair of boots completes the cowboy getup. Yeehaw! After the costume party, head to a nearby saloon for a square dance!
Other Characters from Napoleon Dynamite