Rise of the Guardians
Dress up as Tooth Fairy (Isla Fisher)
Tooth's costume is the most elaborate of them all – think Peacock meets Mardi Gras! You will surely look festive dressed up as the guardian of memories.
Makeup: hot pink / purple ombre on the sides of the eyes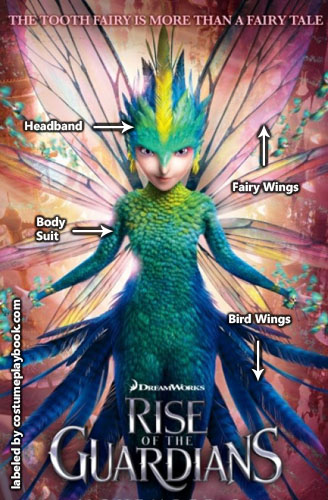 Feather Mask

First up: her feather head dress. In the animation movie, The best resemblance is to get a feather mask. The color combination on this mask is also pretty spot on – blue, green, and yellow

Feather Flapper Headband

If you do not wish to conceal the area around eyes (especially if you'd like to show off your makeup skills), then the other option is to sport a flapper headband. Make sure the feather is on the middle of your forehead.

Fairy / Butterfly Wings

Now for her wings! Her wing is a lovely subtle shade of pink / purple. These wings would do a good job and the reviews have been very positive. Save these wings for a future costume

Peacock Dress with Tail

Apart from her wings, she has a blue feathery tail which you can mimic via this dress + peacock tail number.

Peacock Feathers

These peacock feathers can also work as a tail.

Blue / Green Shimmer Dress

For your dress, I'd suggest either an ombre bodycon dress or this shiny number which revolves around the colors blue and green – a fashionable nod to Tooth's ensemble.

Blue Tights

Another nice addition to your getup is a pair of blue tights.
Dress up as the other Guardians