Rise of the Guardians
Dress up as North / Santa (Alec Baldwin)
The Guardian of Wonder isn't your ordinary Santa Claus – no, he's quite a strong, formidable character with a heart as pure and jolly as the St. Nick we love. His costume is pegged after Russian costumes, which makes sense considering he lives in the frigid North Pole.
Important elements:
1) the fur cossack hat
2) the beard
3) a fur coat
4) underneath, North wears a Russian folk shirt (with ethnic details on the front) but since most of the design is covered by the beard in the movie, you can cheat and just wear a red long sleeve shirt underneath and fold the sleeves up
5) A tattoo (temporary of course!) of NAUGHTY on one arm, and NICE on the other – I especially loved this extra touch
A nice additional detail would be the red tribal-printed fabric belt but this is completely optional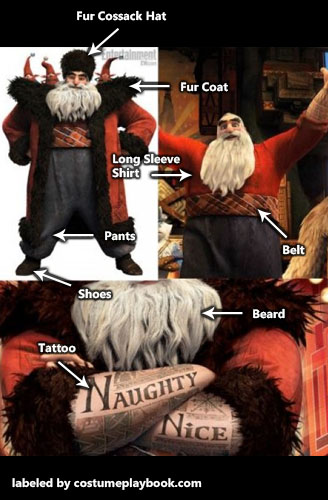 Temporary Tattoo – Letters

Use this to form the words. Place "NICE" on one arm and "NAUGHTY" on the other

Black Cossack Hat

Keep warm in this fur hat!

White Beard

North has a full white beard

Red Robe / Cape

North wears a red robe with brown fur lined on the lapel. This one has a white lapel, but is the closest match I could find.

Brown Fur Fabric

If you'd like a more authentic cosplay, then you can buy brown fur fabric and sew onto the lapel and sleeves of the robe above. This is optional.
Dress up as the other Guardians