Rise of the Guardians
Dress up as Jack Frost (Chris Pine)
The guardian of fun's costume is based on some easy everyday wardrobe pieces. The great thing is that even though it's based on "normal" clothes, the whole outfit is very distinctly his.
This immortal supernatural is the guardian of fun and winter cheer, and the outfit reflects that as well.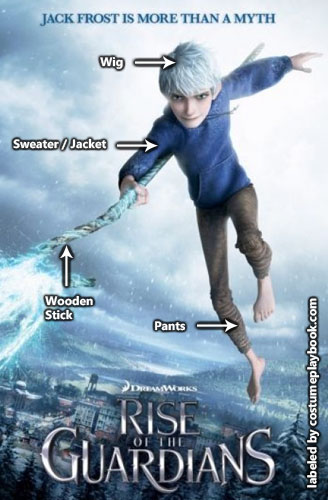 Silver / White Wig

I love this wig! It has a nice shape that resembles the guardian closely. It can also be used for a lot of future characters.

Blue Hoodie

Buy a bright solid blue hoodie – a staple in any wardrobe!

Glitter Glue

Now for some DIY action! Using this glitter glue, decorate your hoodie with some sparkles on the upper portion and the sleeves to mimic the frosted look of his hoodie. Use this glitter glue on your magic staff as well.

Note that this is permanent.

Tailor's Chalk – Pencil Type

Here's an alternative to the glitter glue for your hoodie. If you'd rather use the hoodie in its original solid blue color, then grab an inexpensive tailor's chalk and start sketching swirls on to the hoodie. This one is a more improved version of the standard chalk as it is a pencil type.

Wooden Staff

Better bring your magical staff with you! This is a simple wooden staff but with some glitter glue (see item above), it can look more magical and winter wonderful.
Dress up as the other Guardians