Up Animation Film (Pixar)
Ellie and Carl met when they were just kids and they instantly clicked over a common love for exploring. Together, they had their own little adventurer club. They are one of the best couples to have ever been made on film, in my opinion, so it's a perfect, cute costume idea for couples!
Extra additional detail: bring a blue balloon like the one Ellie gave Carl at his hospital bed and the one gave Carl at her hospital bed. *sniff* That scene gets me every time!
Dress up as Young Ellie
Ellie is full of spunk and very outgoing! Be an instant hit when you dress up as her.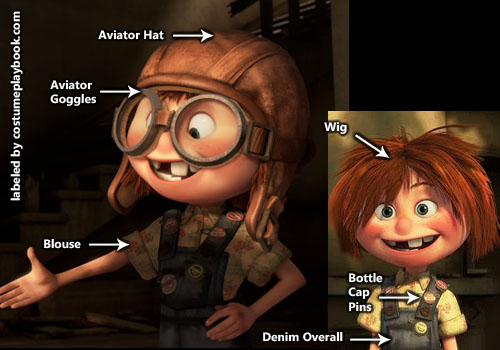 Aviator Hat and Goggles

The most important part of your costume is the aviator hat and goggles – Ellie's dream has always been to fly! This set includes both the aviator hat and the aviator goggles. It even includes a bonus white scarf for when you plan to dress up as Amelia Earhart. This has gotten the most positive reviews out of all the aviator products and the great thing is that it's already a reasonably-priced set

Black Tooth "Ink"

Optional piece for that extra detail: Apply this on one of your front teeth to mimic Ellie's!

Grape Soda Bottle Cap Pin

Just looking at this makes me choke up a little bit. This is an awesome replica of the grape soda bottle cap pin Ellie and Carl wore as their official adventurer club pin. Ellie gives it to Carl who then gives it to Russel later on. This is a must to wear and definitely a great memento for Up fans!




White Short-Sleeved Floral Blouse

Any short-sleeved blouse should do, preferably one with a vintage touch

Denim Overalls

Wear a pair of denim overalls over your floral blouse and you'll look cute as a button! The young Ellie is actually shown barefoot during the movie but I know that's a pretty impractical move for a costume event so feel free to wear nude slippers
Dress up as Young Carl Fredricksen
Carl as a kid was a shy boy with a desire to explore just like the famous Charles F. Muntz!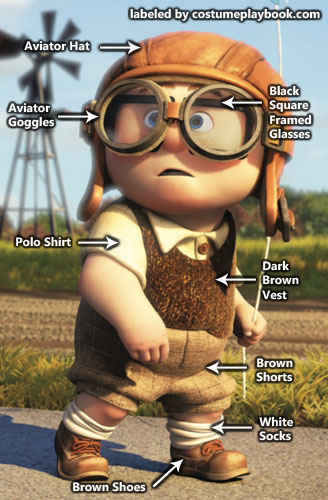 Aviator Goggles and Hat

The young Carl is also sporting an aviator hat and goggles, which sparks the instant connection between him and Ellie. Funny little detail: Carl wears the goggle over a pair of eyeglasses

Eyeglasses with Black Frame

Carl wears a pair of eyeglasses behind his goggles. 6 eyes hehe!

Cream Polo Shirt

Carl wears a simple cream polo shirt – a wardrobe staple

Brown Sleeveless Pullover

Carl wears a sleeveless brown pullover sweater over the polo – quite a preppy look if I might add! The material he wears is probably crochet knit, but a pullover like the one in this photo would be a more practicable, reusable choice

Pair of Tweed Shorts

Carl keeps the preppy trend by wearing a pair of shorts that appears to be made from tweed. It also has a subtle plaid pattern. This pair is made from tweed but slightly grayer than that of Carl's.

Brown laced shoes

A pair of laced shoes finishes Carl's outfit. You can go with any pair as long as it's not too casual, so that it fits with his overall attire. Note: Your white socks should be bunched up like the one on Carl's photo

Grape Soda Bottle Cap Pin

Ellie gives Carl a grape soda pin to formally include him in the adventurer's club.
Other Up Character Costume Guides
Click on any of the characters below to view their costume guides.