Dress up as Wreck it Ralph
Wreck-it Ralph, the misunderstood villain of the Fix-It Felix, Jr. video game, has humongous hands designed to smash through buildings that Felix must then rebuild!
The most important element to your costume, aside from the hands, is a lumberjack-like look. Wear a plaid shirt (preferably Henley but a plaid flannel button-down works well too!) over a green inside shirt. Then, wear overalls. Ideally, go barefoot to your costume party but for practicality purposes, you can just wear a pair of sandals so you don't accidentally step on bones and other forms of Halloween trickery. Or, you can wear those nifty barefoot shoe covers below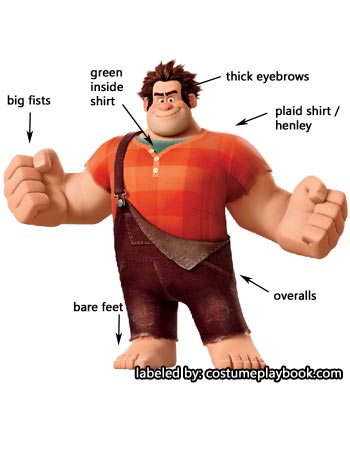 Red Henley Shirt

Ralph wears a henley shirt in a red plaid pattern. Unfortunately, there aren't any Henley shirts out there with a plaid pattern, so you can substitute with a basic red one. OR, go for a plaid button down shirt like the one below.

Short-Sleeved Red Plaid Shirt

This is a good alternative to the Henley cut and should still get that lumberjack look going on.

Unibrows

Wreck-it Ralph's eyebrows are thick just like this fake pair of eyebrows. You will need to cut this unibrow into 2 separate brows because Ralph does not sport a unibrow.

Wreck-it Ralph's huge fists

My favorite part of the costume! These Wreck-It Ralph fists even come with sound effects!

Brown Bib Overalls

Unbutton one side and let the overall drape down, just like Ralph did

Barefoot Shoe Covers

To nail the look of Ralph even better, consider wearing this pair of bare foot shoe covers! It's going to be a major hit!
Other Characters from Wreck-it Ralph

Vanellope von Schweetz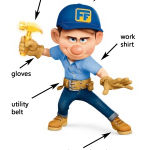 Fix-it Felix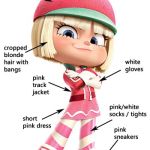 Taffyta Muttonfudge