Wreck-it Ralph Costumes
Dress up as Fix-it Felix
The protagonist of the Fix it Felix Game is always handy and dependable! Save the world and look really cool with your trusty golden hammer and tool belt! Fix-it Felix reminds me of Mario (maybe because they're both handymen)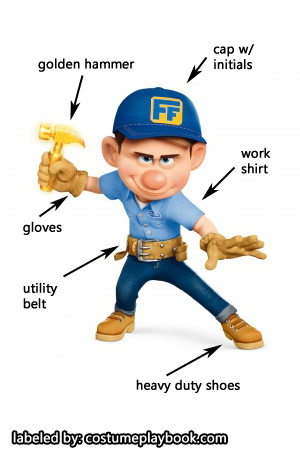 Blue Baseball Cap

Use this as your base hat to place the Fix-It Felix "Logo" on! To make the DIY Fix-it Felix patch, you have 2 options.

Option 1: An easier, quicker approach is to just draw the FF initials on a yellow duct tape with a blue permanent marker. Then, trim the edges so they're round and stick to your cap
Option 2: Buy yellow aida cloth (for cross-stitching), and then cross stitch the FF initials. Cross-stitching is actually pretty simple (take it from someone who doesn't have particularly nimble hands)

Short Sleeved Work Shirt

The best thing to wear for repairs – a basic work shirt!

Work Gloves

Gotta stay protected! Wear some heavy duty gloves.

Tool Belt

Fix it Felix's weapon accessory – the tool belt!

Hammer Toy

For your golden weapon, get yourself a hammer toy, and spray paint with gold.

Gold Spray Paint

Go DIY: use a can of gold spray paint and paint all over the toy until it's nice and shiny!
Other Characters from Wreck-it Ralph

Vanellope von Schweetz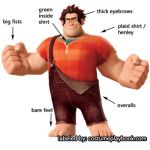 Wreck-it Ralph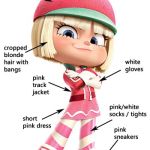 Taffyta Muttonfudge