Wreck-it Ralph Costumes
Dress up as Vanellope Von Schweetz
I love Vanellope's look! It's a yummy combination of mint and pops of candy colors. Her hair is just tied into a ponytail but they've got sprinkles and other candies stuck onto her, to tie in with the video game she belongs to – "Sugar Rush". You can opt to place real candies on your hair but if you'd like to avoid swarms of ants (and other sweet tooths) from chomping on your hair, consider this great alternative – use small confetti bits of colorful crepe paper and some cute hair clips. Three noticeable shapes on her hair include a yellow star, a heart, and a pink gummy bear.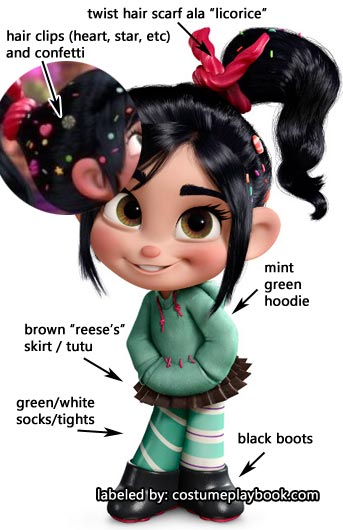 As you can see in the picture above, she has a few pops of hot pink on her outfit. Here's a cute idea to do this – wear some hot pink shoe laces.



Red Twist Hair Tie

First up: your hair candy! Put your hair up in a high ponytail using a read twisty wire hair band

Pink Heart Hair Clip

She has a lot of candies and other cute stuff on her hair which you can mimic using hair clips and some confetti. Some of the distinct shapes you see on her hair include the pink heart and the yellow star (see listing below)

Baby blue Star Hair Clip

The one on Vanellope's hair is yellow but the shape and the candy-colored shade of blue of this piece should be a good alternative




Candy Shaped Clips

You can add even more candy shaped clips to your hair like this one!




Mint Hoodie

Now for my favorite part of the getup – a mint green hoodie!

Brown Tutu

To mimic her Reese's wrapper skirt, just get a brown tutu or mini skirt. I love the layers of this particular tutu and the folds on it mimics the wrapper




Green / White Striped Tights

Pair with some green and white striped tights. To mimic that mismatched look (which I think was a perfect touch to give off that "glitch" vibe), you can wear a leg warmer of another green-white pattern over one leg.

Black Sneakers

I'd go for mid-top black sneakers like this pair – it's very cool.
Other Characters from Wreck-it Ralph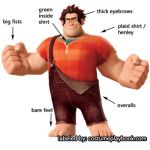 Wreck-it Ralph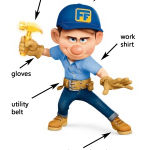 Fix-it Felix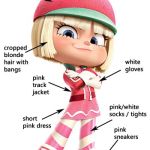 Taffyta Muttonfudge